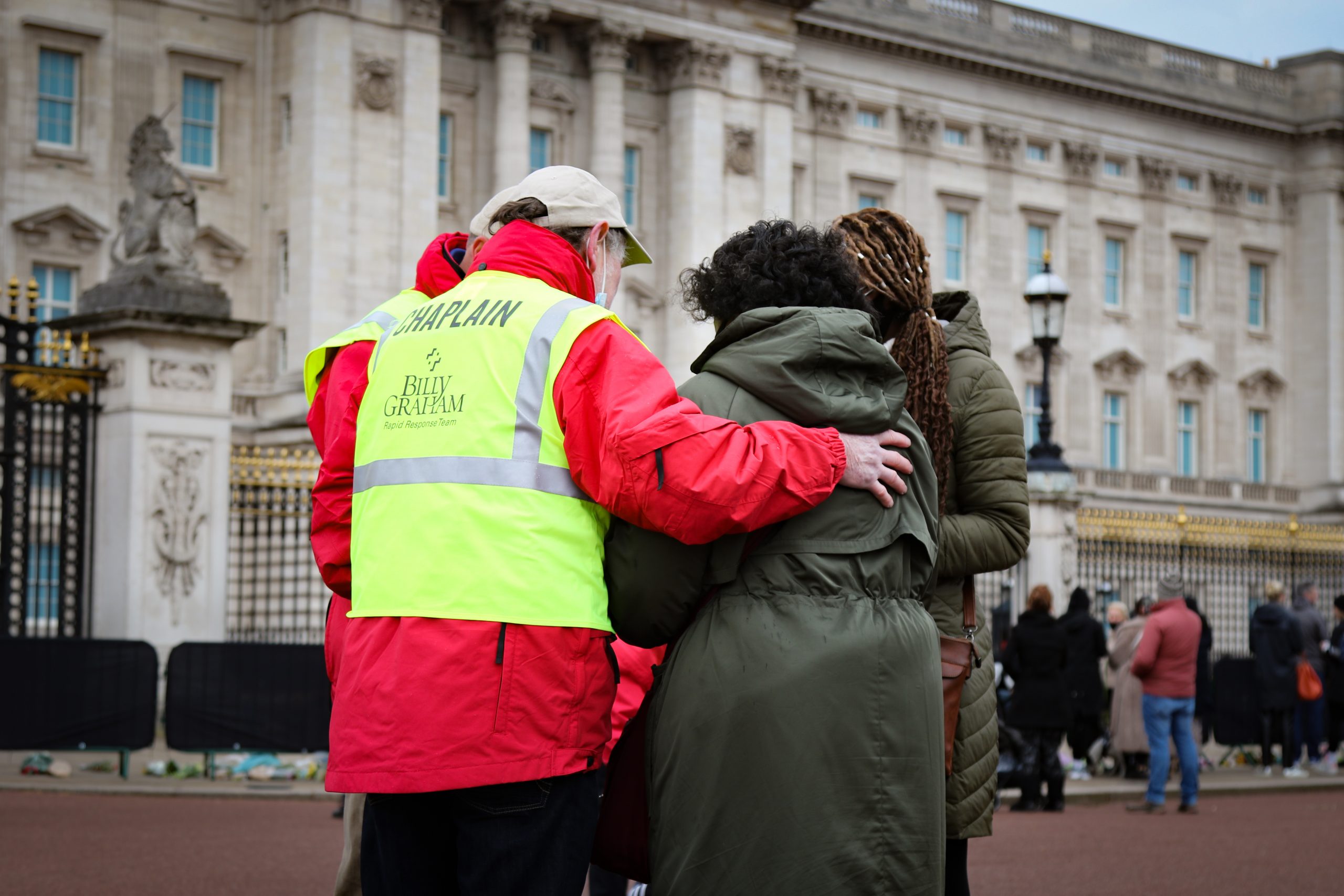 It's not uncommon for the gates of Buckingham Palace in London to be buzzing with tourists taking photos and admiring the royal guards. But recently it's been different. Hours after the Her Majesty the Queen  announced the death of her husband, Prince Philip, the mood around the palace was sombre. Amongst the trail of flower tributes laid across the gates, there's a sense of sorrow for the death of the beloved Duke.
Crisis trained chaplains from the Billy Graham Rapid Response Team deployed to central London to offer spiritual and emotional support during this time of national mourning.
Since their arrival last Friday evening, chaplains noticed the air of grief around the royal gates. "There's such a sadness in the atmosphere, but people are ready to talk, whether it's about Prince Philip or the difficulties they're facing in life as a whole," one chaplain said.
From locals who travelled to pay their respects, to tourists and passers-by, chaplains noted that people were more open to talk and share their own struggles as they're united in grief and mourning for the Duke. "People want to talk; they want answers. You could just feel the pain of the palace staff, the royal household, and the people that gathered to pay their respects," said a chaplain.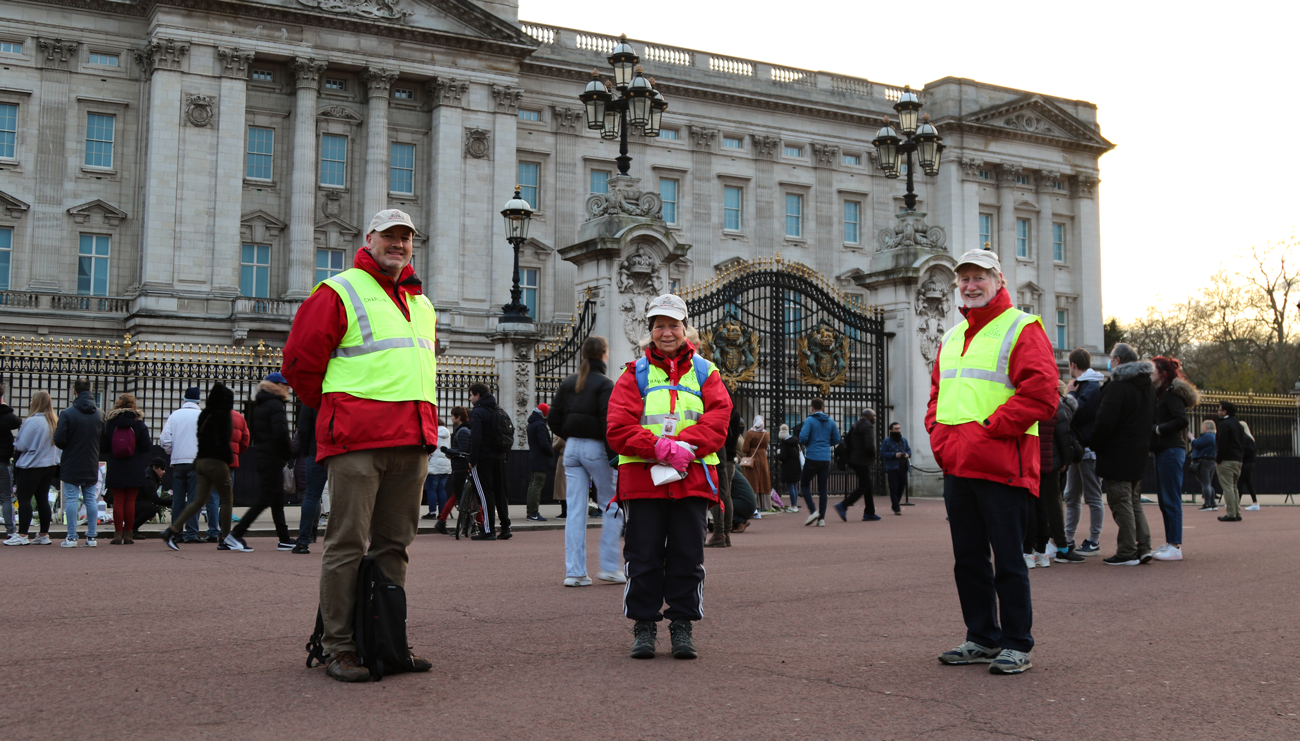 Billy Graham chaplains witnessed so many stories like these of God at work during their four-day long deployment. They were able to extend the light of Christ to those they spoke with. While some encounters were simple conversations, many left with counsel, prayer, and a new found peace in Christ.  Here are some of their stories:
David* was observing the floral tributes when he met one of our crisis-trained chaplains.
The conversation began with David wondering if Prince Philip had a faith or not, which led the chaplain to ask David if he believed in God.
David shook his head, "No, I don't believe in that stuff." He explained that he didn't like the thought of being religious, but admitted that he'd pondered the idea of faith in the past.
"Put your faith in Christ," the chaplain encouraged him. The chaplain explained that Christ died so that we may have freedom through Him – and by inviting Christ into our heart, anyone can experience that freedom.
David read through the 'Steps to Peace with God' booklet. Not long after they prayed, David accepted Jesus as his Saviour.
"I feel all warm inside. I feel so different," David said. He walked away from Buckingham Palace with a new found freedom and peace with God.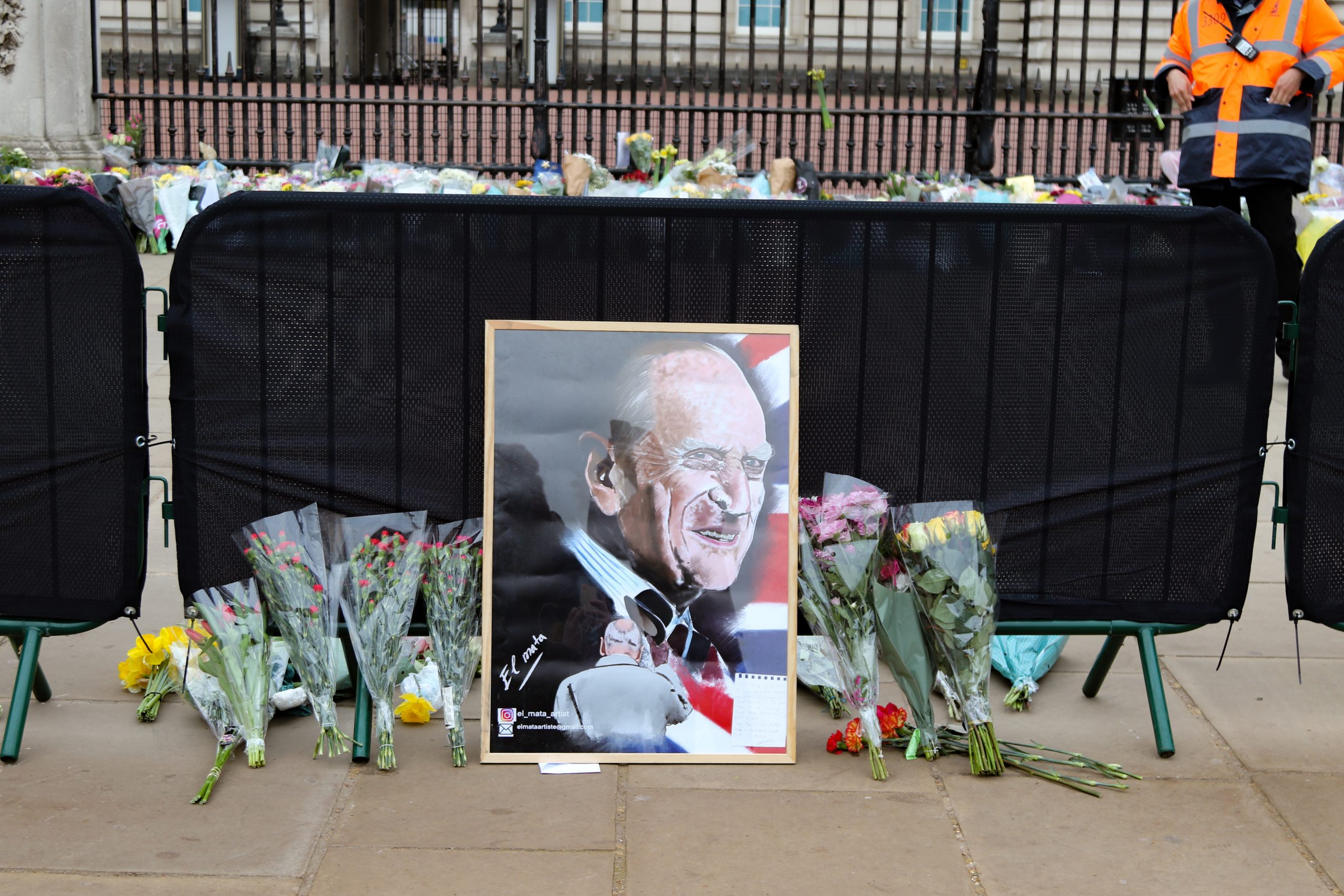 Hours later, another chaplain spoke with Danny,* who was sitting on the steps to the Victoria Memorial.
As he was deep in thought, a chaplain approached and asked to sit with him. Danny began to share some of the challenges of his life – how he was trying to make sense of life through various religious traditions.
The chaplain was able to identify with some of Danny's challenges and shared his own story of how he came to know Jesus Christ.
Danny wanted to know more about Christ, so the chaplain shared the Gospel message.
After hearing that he could welcome Christ into his life today, Danny prayed to receive Jesus as his Saviour.
Laura* stopped by the palace while visiting family in London. She was brought up Catholic but admitted that she had not put her faith in Christ before.
She told a chaplain that she was unsure whether she was saved and had no trust in the church.
The chaplain explained to Laura that whilst no church is perfect, Jesus Christ is – and He died on the cross so that we may live a full life with Him, with full confidence and assurance that our sins are forgiven.
The chaplain asked if she would like a new life with Christ today. Without hesitation, Laura replied, "Yes!"
Side by side with a Billy Graham chaplain, Laura prayed to accept Jesus Christ as her Lord and Saviour.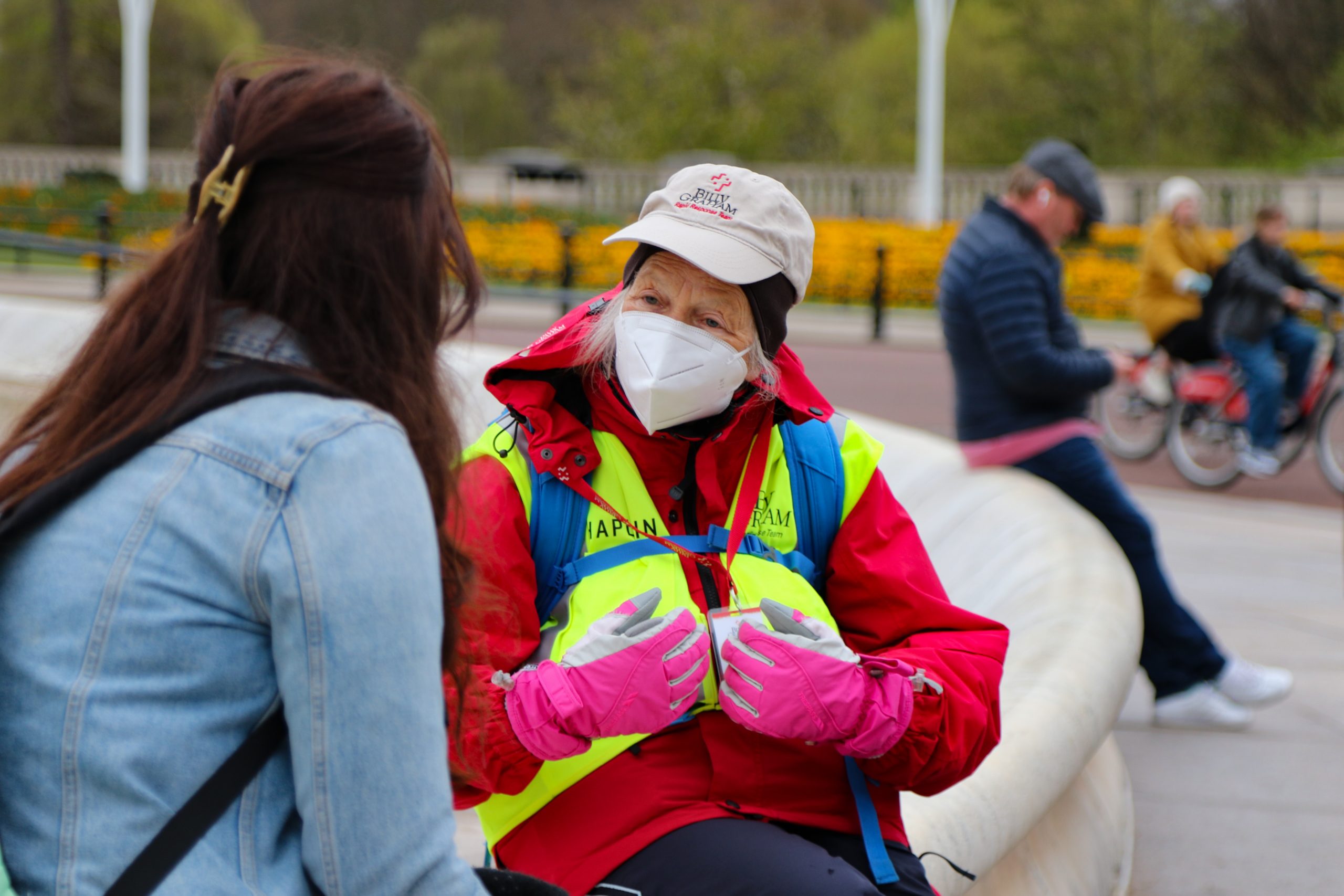 And it wasn't only visitors who were comforted by the presence of the chaplains. Paige* was one of the stewards tasked with supervising the crowd at Buckingham Palace after the number of visitors doubled.
It was her first day on the job. Feeling nervous and anxious, she was pleased when a chaplain began a conversation with her.
As they observed the tributes for Prince Philip that fenced the palace gates, they began speaking about the afterlife and death.
The chaplain told her that Jesus Christ died for our sins, so that we may have eternal life. "We all have a choice to make about our eternal future," the chaplain reminded her.
Paige realised that she too can make that life-changing choice. On the steps leading to the Victoria Memorial, Paige received Jesus Christ into her heart for the very first time.
We praise God for allowing the ministry of BGEA to be the hands and feet of Jesus, spreading the unfailing love and hope of Christ to people during this sensitive time.
*all names changed to protect privacy