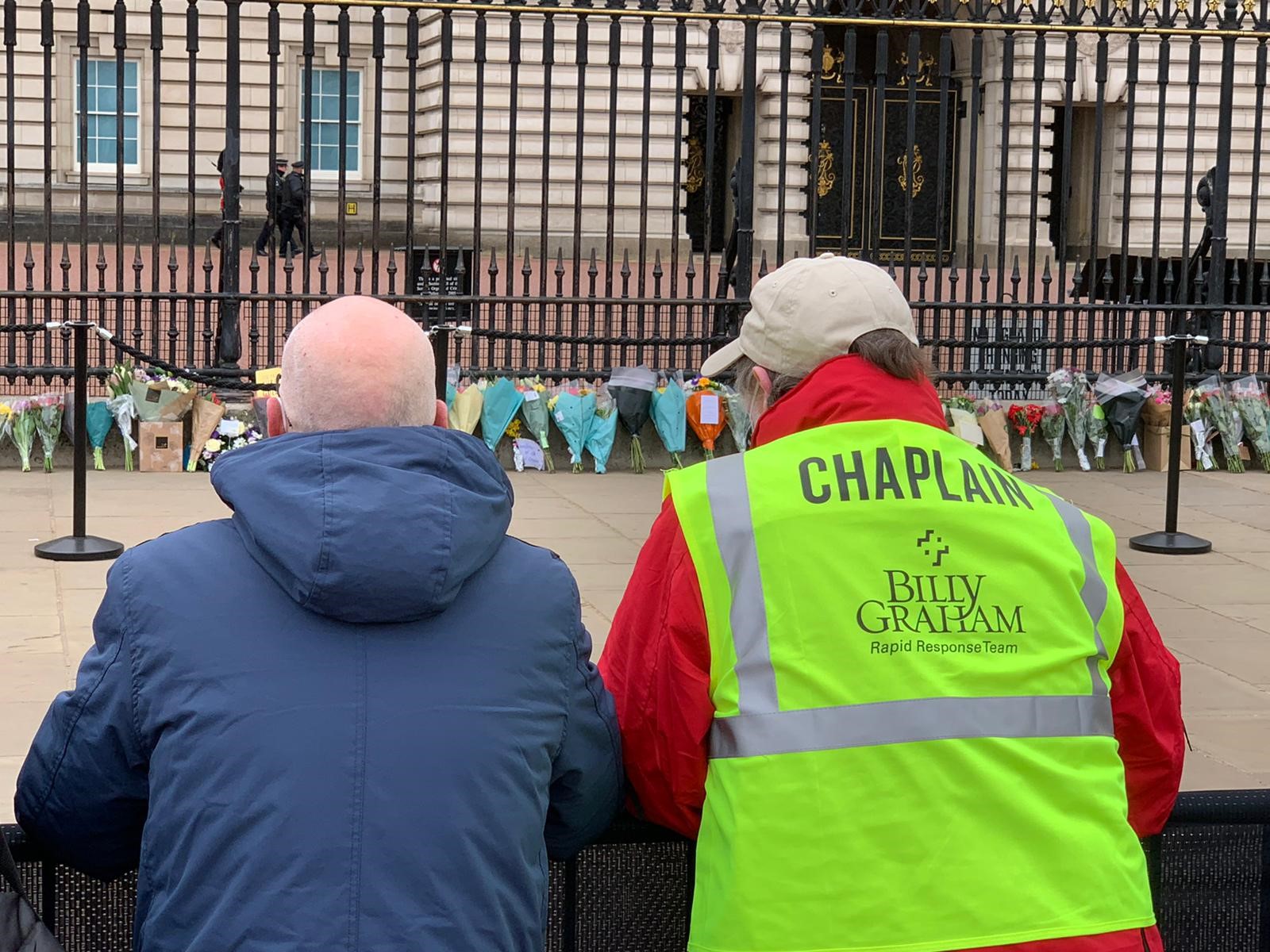 A team of crisis-trained chaplains from the Billy Graham Rapid Response Team (BG-RRT) is ministering in central London following the news of Prince Philip's death.
On Friday morning (9th April, 2021), Queen Elizabeth II announced the passing of her husband, Prince Philip. The Duke of Edinburgh was 99 years old, and had been married Her Majesty for 73 years.
The news of his passing saddened people across the globe, sparking many to pay their tributes to the Duke. Some are visiting the outside Buckingham Palace to lay flowers, pay their respects, and honour Prince Philip's long life in service.
On Friday evening, Billy Graham chaplains deployed to central London to offer spiritual and emotional support to those affected by the Duke's death.
"We've already held many conversations with those paying their respects outside Buckingham Palace and other passers-by. Following the news of Prince Philip's death, many were moved to attend the palace out of respect, but many were also ready to share challenges that COVID-19 has brought into their lives in the past year," Nigel Fawcett-Jones, Rapid Response Team coordinator for the UK said. "People are sharing the trauma they've experienced as the result of the pandemic like bereavement, isolation and financial worries."
Since arriving yesterday evening, chaplains have shared heartfelt conversations with many people, and also prayed with others. One person even indicated making a decision for Christ after speaking with a chaplain. "Through listening carefully and supporting those that we encounter, we hope to bring the comfort of Christ to those in need," Fawcett-Jones added.
The team of Billy Graham chaplains will be present around Buckingham Palace until Monday evening. Please join in praying for Her Majesty the Queen, the royal family, and all those mourning during the death of Prince Philip. Also pray for the chaplains who are ministering during this time, that they may share the love, comfort and peace of Jesus Christ to those in need.
---
SHARE HOPE WITH THOSE MOURNING PRINCE PHILIP