Minister to Hurting People in Your Community or Around The World
Everyone faces personal crisis or experiences grief sometime in life – whether it is the death of a loved one, illness, job loss or other issues. At a time when people need hope the most, many suffer in silence. Is God stirring your heart to reach out in compassion to hurting people in your community? The Billy Graham Evangelistic Association (BGEA) can help you learn to share the love of Christ with your friends, neighbours and colleagues during the tragedies of everyday life.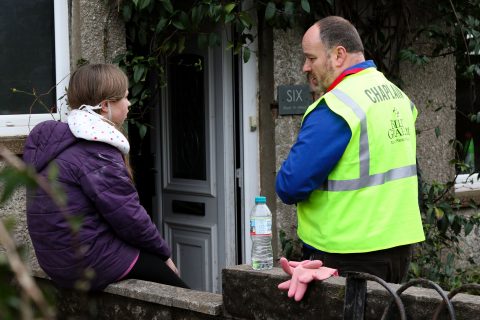 You can attend a one day Sharing Hope in Crisis seminar which will prepare you to give effective spiritual care, and the practical skills to share God's love and comfort with people in crisis.
Attend a Sharing Hope in Crisis
Training Seminar
You can also help hurting people across the UK or around the world. The Rapid Response Team trains and develops teams of chaplains to give emotional and spiritual care in the aftermath of a disaster. Will you consider these opportunities to let God use you to minister to others?
Volunteer chaplains from the Rapid Response Team have responded to several crises both in the UK and on mainland Europe, sharing hope in seemingly hopeless situations. Follow the story on our news page.
Listen to this five-minute interview on UCB with Nigel Fawcett-Jones, Rapid Response Team coordinator for the UK (click on the far left of the bar to play the audio).
Listen to one Church Leader who is excited about the effectiveness of Sharing Hope in Crisis Seminars after hosting the very first one in the UK at his church in Shipley.
Watch how Rapid Response Team chaplains brought the comfort of Christ to Manchester after the terrorist bomb attack.
HOW TO GET INVOLVED
Apply to be a Volunteer Chaplain
Donate to the Rapid Response Team
FIND OUT MORE