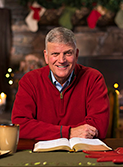 I love the word saviour. If God sent a Saviour, someone must have needed saving from something. An angel explained that to Joseph in a dream. The angel told Joseph that the baby to be born was conceived not by natural means, but by the Holy Spirit, and that "He will save his people from their sins" (Matthew 1:21, NKJV).
We have absolutely no way on our own to escape judgement for sin. But the wonder of Christmas is that "the Father has sent the Son as Saviour of the world" (1 John 4:14). Not just as a saviour, but the Saviour. "There is no saviour besides Me" (Hosea 13:4).
At the Billy Graham Evangelistic Association, our one purpose is to tell lost people everywhere, every day, about the "Saviour Jesus Christ, who has abolished death and brought life and immortality to light through the gospel" (2 Timothy 1:10).
This year, we had the opportunity to do this all across the UK, including at the Lancashire Festival of Hope in Blackpool and during my son Will's evangelistic Celebration in central Scotland. In June, our crisis-trained chaplains were invited back to West London for the one-year anniversary event following the Grenfell Tower fire, to offer comfort, hope and prayer in a community still looking for healing.
In 2019, we will launch a nationwide outreach using the evangelistic programme Flying Blind, and I hope you and your church will be involved. Visit billygraham.org.uk/flyingblind to watch the trailer and find out more.
Please pray that God will continue drawing men, women and children to Himself through friends like you and the Billy Graham Evangelistic Association. This Christmas season, would you choose one or more of our Christmas Giving Opportunities to share God's love with hurting hearts? Thank you for your commitment to telling people about the hope found only in Jesus Christ.
May God richly bless you and your family.

Franklin Graham
President
Giving Opportunities