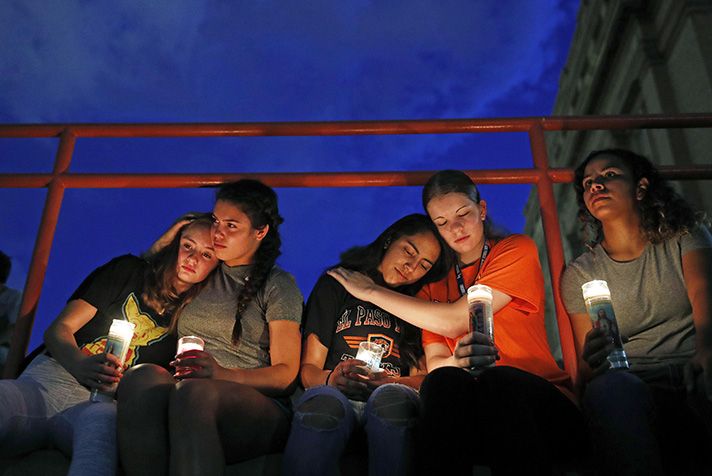 From left, Melody Stout, Hannah Payan, Aaliyah Alba, Sherie Gramlich and Laura Barrios comfort each other during a vigil for victims of the shooting Saturday, Aug. 3, 2019, in El Paso, Texas. A young gunman opened fire in an El Paso, Texas, shopping area during the busy back-to-school season, leaving multiple people dead and more than two dozen injured. (AP Photo/John Locher)
Shock and disbelief set in for many over the weekend after—in less than 24 hours—gunmen opened fire on two separate occasions in El Paso, Texas, and Dayton, Ohio, leaving dozens dead and injured. Billy Graham Rapid Response Team (RRT) chaplains arrived in both cities on Sunday.
Twenty people were killed and more than two dozen were injured in the mass shooting Saturday at a popular El Paso shopping centre. Several states away, residents in Dayton, Ohio, were also faced with horror as shots were fired around 1 a.m. Sunday in the city's Oregon District, leaving nine people dead and 27 others injured.
Officers killed the lone suspect in the Ohio shooting (bringing the death toll to 10), and a suspect is in custody for the Texas shooting.
As family, friends and neighbours face the unthinkable, RRT chaplains are there to see how they can work alongside local officials, churches, first responders and others in the community to provide emotional and spiritual care.
"In this time of shock, anger, brokenness and incredible loss, we can't imagine the pain and suffering people are feeling from this senseless act of evil," said Jack Munday, international director of the Billy Graham Rapid Response Team. "Yet, we know God hasn't forgotten them and seeks to heal the brokenhearted and bring comfort to those who grieve."
Billy Graham Evangelistic Association President and CEO Franklin Graham also urged people to pray.
"Please join me in praying for the grieving families whose loved ones were killed today and for the nearly two dozen more who are injured and being treated in nearby hospitals," he said late Saturday in a Facebook post about the El Paso shooting.
By Sunday morning, Graham also posted about the overnight tragedy in Dayton, asking people to continue to pray.
The Latest
Six crisis-trained RRT chaplains arrived Sunday afternoon in El Paso to meet with authorities at the city's emergency operations centre. They're assessing what efforts are already in motion by local churches and organisations—and where chaplains can assist.
Also in El Paso: the RRT Mobile Ministry Centre, which is a key vehicle chaplains use during deployments that often becomes a central location for residents and law enforcement officers seeking encouragement or someone to talk to.
In addition, four experienced chaplains are in Ohio.
Just two months ago, RRT chaplains were in Dayton after deadly tornadoes swept through the region. As a result, Munday said they already have relationships with local churches in place that could be beneficial after this latest tragedy.
More chaplains are on standby and will likely be sent in the coming days to both cities.
How You Can Pray
Please pray for all affected by this weekend's tragedies and first responders who are continuing to work in the aftermath, as well as for RRT chaplains responding here and in other areas.
Chaplains are still deployed to Pearland and Rockport, Texas, following Hurricane Harvey, and also to Del Rio and Laredo, Texas, where they're ministering at refugee centers near the U.S.-Mexico border.
Overwhelmed by tragedy in this world? There's an answer. Find hope today.