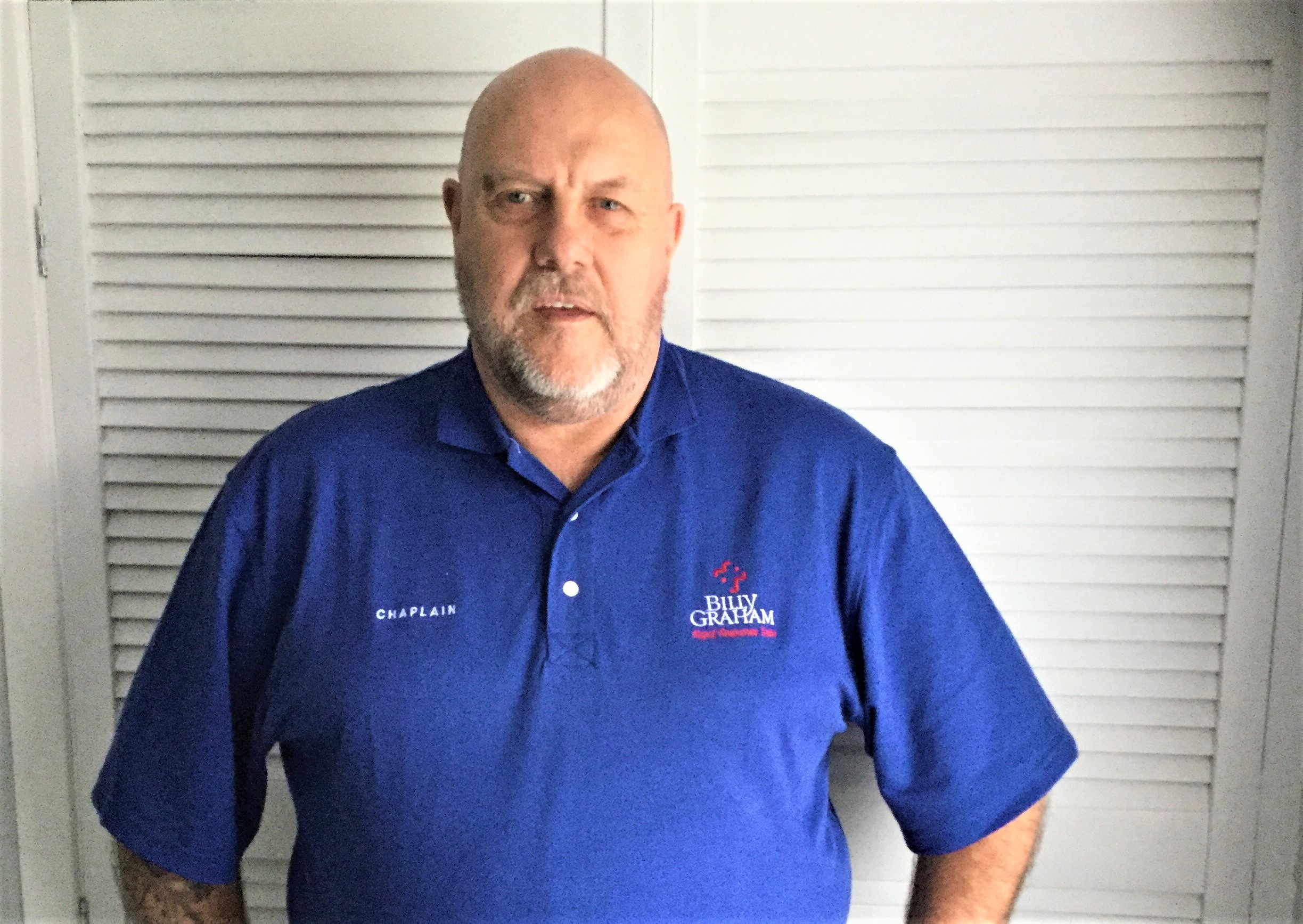 Greg Doughty is chaplain for the Billy Graham Rapid Response Team (RRT). He is part of a UK-based team of chaplains who are trained to respond to crisis situations by providing emotional and spiritual support – and share the hope of Christ to those in need. 
We interviewed Greg about being an RRT chaplain, and his time volunteering at the Samaritan's Purse Operation Christmas Child centre.
How did you get involved with the BGEA ministry?
I first became involved with the Billy Graham Evangelistic Association (BGEA) after volunteering at the Festival of Hope in Blackpool, 2018. During the preparation for the event, I learned more and more about BGEA and Samaritan's Purse. Amongst the things they stood for, I particularly liked what they were able to provide for the world community during times of trouble.
How did you become an RRT chaplain?
Someone once said to me that my experience as a chaplain to a social project in Blackpool, and spending 20 years in the military where I worked in difficult environments, would be good attributes for becoming an RRT chaplain. Along with my genuine desire to help others, I attended a Sharing Hope in Crisis course. After completing it, I applied to become an RRT chaplain and was accepted.
How has becoming an RRT chaplain influenced your faith?
I haven't been deployed yet to any crisis situation, but becoming an RRT chaplain has re-affirmed my belief that as Christians, we need to step out from the safety of our church surroundings and take the Gospel to where it's needed at the time. We need to be prepared to help our brothers and sisters in a time of crisis, irrespective of faith, colour or creed, and be thankful that God can use us to show the love that He has for every living person.
>> Want to become an RRT chaplain? Find out more here.
Especially during this pandemic, how important is it that we share God's love and comfort?
When people are experiencing a situation that disrupts their normal way of life, such as this pandemic, they instinctively look towards something to someone that can reassure or encourage them to get them through it. That's why it's so important that Christians step up and close the gap for these people. We can show them how God's love strengthens us, and it can strengthen them also, if they let Him. It's showing people that we live our faith as well as we discuss our faith.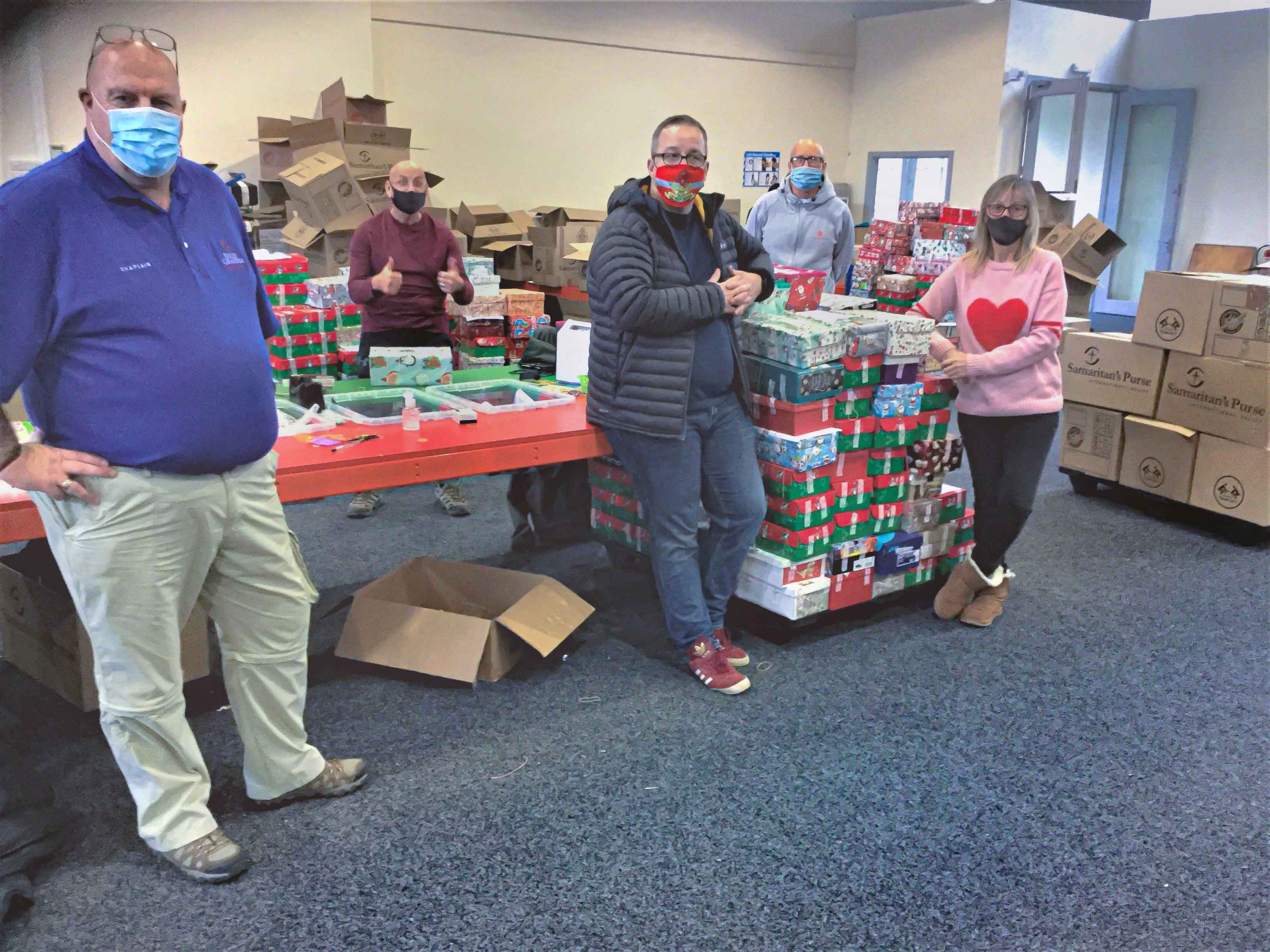 Photo above: Greg and his work colleagues at the OCC centre in Leigh.
Every year, Samaritan's Purse UK opens up its doors for volunteers to help pack shoeboxes during the busiest months of Operation Christmas Child (OCC).
Operation Christmas Child is all about giving the gift of Good News and joy to thousands of children across the globe.
Greg, a traffic officer and RRT chaplain, was one amongst the hundreds of volunteers who helped pack shoeboxes at the OCC centres. After days of sharing heartfelt conversations with volunteers whilst packing hundreds of boxes for children, he wanted to share this experience with others – so he asked his non-Christian work colleagues to join him.
The following day, Greg and his wife were joined by three of his colleagues who gave up their day off to spend days at the OCC centre to join other volunteers who are all there for one cause – to spread joy and love to children around the world.
What made you invite your colleagues to volunteer for OCC?
It was whilst I was processing those boxes that I experienced overwhelming feelings of both humbleness and joy. Seeing the thought and effort that had been put into preparing some of those boxes made me realise just how much love for our fellowman is in fact out there. That people do care.
After speaking with the centre manager, it became apparent how massive a task this year is because of COVID 19. With that in mind, I called my colleagues who are also traffic officers, and asked if any of them could spare some time to join me at lending a helping hand. Despite the short notice, four of the them and my wife Catherine were able to spend the day at the OCC centre!
They also experienced similar feelings of joy about what they were doing and seeing, and as a result, we have discussed plans to come back next Christmas, and for my colleagues to fill and gift a shoebox themselves.
Words of comfort from chaplain Greg:
If I had to offer words of comfort to those struggling with this current situation, I would say to believers and non-believers alike, continually offer up your prayers to God, who will strengthen us and guide us through this situation. We will come through it!
Find out more about the Billy Graham Rapid Response Team ministry here.
Are you in need of God's comfort? Get to know Him today.