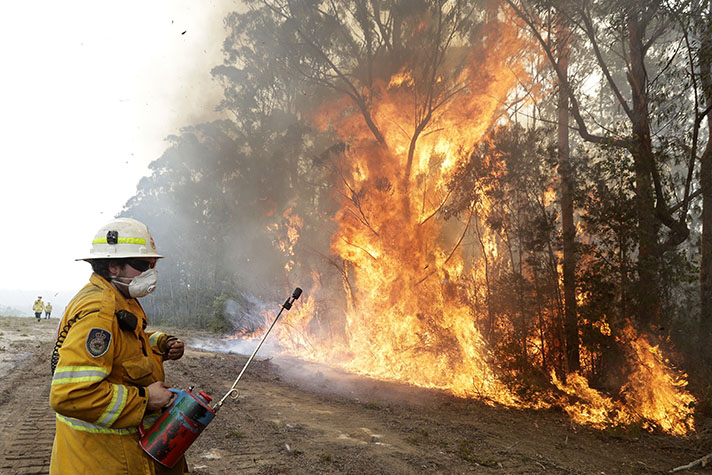 Chaplains from the Billy Graham Rapid Response Team UK will be ministering in Australia as the fires continue to spread.
The blaze has killed at least 28 people, burned over 2,200 homes and 26 million acres of land have been destroyed.
Crisis-trained chaplains will be present to offer emotional and spiritual care to those affected by the deadly bushfires.
Since September 2019, the RRT's Australian team of 36 chaplains have travelled alongside Samaritan's Purse to six regions affected by flames, providing a listening ear and sharing hope.
During the ongoing fire season, chaplains from the UK, Canada and the US have stepped forward to help spread the comfort of Christ during such a crisis.
UK chaplains will be travelling to Australia from the 31st January for a three-week deployment.
"Our hearts go out to the people of Australia," Franklin Graham said. "Our Samaritan's Purse Australia disaster relief teams and Billy Graham Evangelistic Association Rapid Response Team chaplains are responding.
"I want the people of Australia to know that many around the world are praying for them," Graham said.
HOW YOU CAN HELP
PRAY: Pray for the peace of Christ to fall upon those suffering from the fires, that they may find true comfort in knowing that God is with them through hardship and trials.
Pray for the RRT chaplains, that their presence becomes a blessing to those in the midst of a tragedy. Please pray that the love and hope of Christ may shine through them as they carry out their ministry in Australia.
Pray for strength and encouragement for every person who is working to help aid the impact of the bushfires. From emergency services to the locals who want to help their neighbours – please pray for strength and endurance, and that they may experience true joy as they spread comfort and love to those in need.
GIVE: Australia is facing one of the country's worst ever bushfire seasons. Lives have been lost, homes destroyed and million acres of land lost. We need your help to continue our ministry and help spread the hope of Christ during such a tragic crisis.

Give a Gift Today
Do you have faith in God during difficult circumstances? Trust Him today.