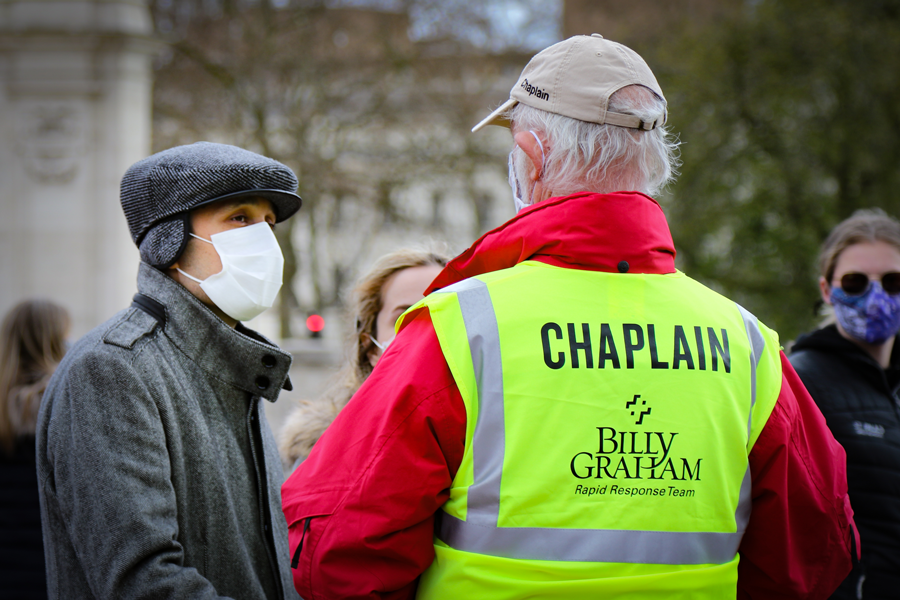 Chaplains from the Billy Graham Rapid Response Team ministered in central London after the death and funeral of Prince Philip, Duke of Edinburgh.
A team of Billy Graham chaplains were amongst the crowd outside Buckingham Palace for two weekends in a row in April, offering spiritual and emotional support during a time of national mourning.
Read the following stories and be encouraged at how God is using this ministry to bring the hope and comfort of Christ to many:
'You've really touched me'
Quinn had been self-isolating for the past year because of the COVID-19 pandemic, so she was pleasantly surprised when a Billy Graham chaplain approached her for a chat.
"I haven't spoken to anyone in person for almost a year," Quinn said.
Quinn shared that she'd struggled with being alone for so long. The chaplain offered words of comfort and even shared a joke to make Quinn laugh.
After listening to all of her struggles in the past year, the chaplain shared the Good News of Jesus Christ and asked if she could pray with Quinn. She gladly accepted.
As the chaplain prayed for Quinn, tears began to stream down Quinn's face.
Quinn said that she was not ready to make a decision for Christ, but she expressed how emotional the prayer made her feel. Overwhelmed with gratitude for the chaplain, Quinn said, "That was so meaningful to me. You've really touched me."
The ripple effect of sharing God's word
It was on a Monday afternoon when a security steward, Ollie*, began speaking to a Billy Graham chaplain. It was unusually quiet outside Buckingham Palace, so Ollie was happy to chat.
Ollie had no personal relationship with Christ, but he had attended church in the past and read the Bible.
"Have you ever received Christ before?" the chaplain asked. Ollie replied, "No" and said that he was content on being a 'good person' for now. He was waiting for the right time to fully accept Christ into his heart.
The chaplain explained that simply knowing about Jesus Christ is nothing compared to the glory and joy we experience when confess our sins and commit our lives to Him. The chaplain added that if Ollie wanted, he could receive Christ today.
Without hesitation, Ollie prayed to invite Jesus Christ into his life. Ollie then pointed to his fellow steward Rheo*. "He needs saving, too!" Ollie said.
Rheo walked over and began speaking with the chaplain. He grew up in a Muslim home and had a good knowledge of the Old Testament, but Rheo admitted that he was satisfied with just being a moral person [if you think this works; I didn't want to repeat the phrase "good person"] with no real faith.
As the pair discussed the Old Testament, the chaplain was able to point Rheo to one very important truth – that every promise in the Old Testament was fulfilled through the life and works of Jesus Christ.
Rheo wanted to know more. Using John 3:16, the chaplain explained that God loves us so much, that He gave His only Son, Jesus Christ, to pay for our sins so that we may have eternal life.
After hearing the Gospel, there was no turning back for Rheo. By the gates of Buckingham Palace, he prayed to accept Christ as His Lord and Saviour.
Another heart led back to Christ
During their brief visit to the palace, Shawn* and his wife crossed paths with a Billy Graham chaplain and began a conversation.
Shawn shared that he walked away from his faith years ago. He also expressed his longing to restore that relationship with Jesus Christ again, but he wasn't sure where to begin.
The chaplain explained he could do that at that very moment through a prayer of repentance and a sincere heart. Ready to restore his relationship with God, Shawn joyfully prayed to recommit his life to Christ.
Do you want to receive peace into your life? Get to know Him today.