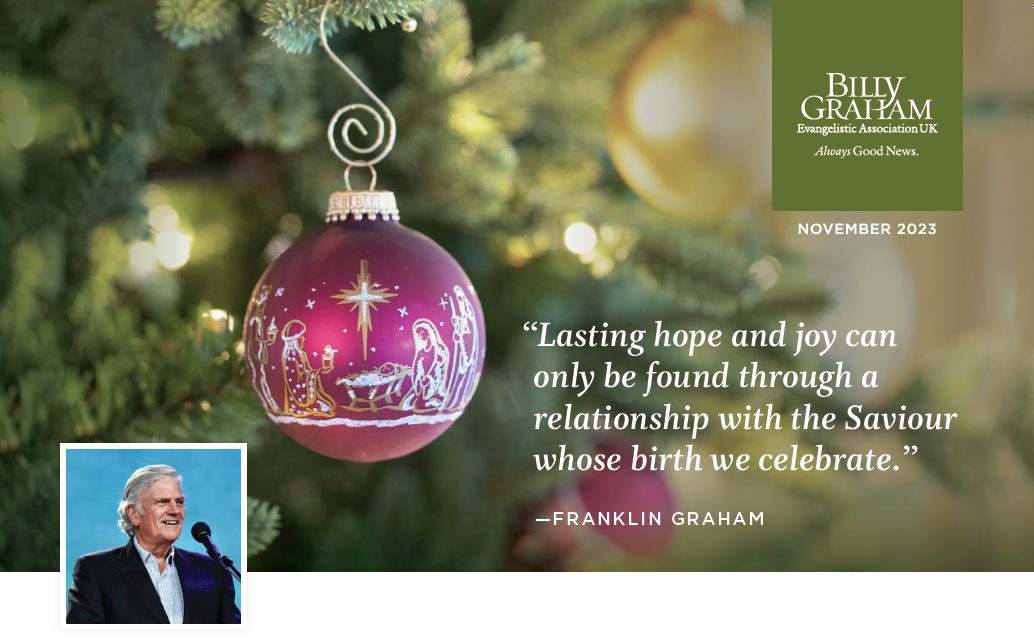 Dear Friend,
Thank you for your heart to share the Gospel of Jesus Christ with people far from Him. You are helping point men, women, and children to the Good News that "he himself is our peace" (Ephesians 2:14, ESV).
The Christmas season is a powerful reminder that lasting hope and joy can only be found through a relationship with the Saviour whose birth we celebrate. There are still so many people in the UK looking elsewhere for fulfilment, "choked by worries, riches, and pleasures of this life" (Luke 8:14, NASB). Together, we can reach them with the freedom found only in the Gospel.
Earlier this year, God gave me the opportunity to preach this Good News in London during the God Loves You Tour. Thanks to friends like you, more than 10,000 people attended and 870 of them made life-changing decisions for the Lord. I am grateful for each person who helped make this Gospel ministry possible—and for the chance to return to your country again in 2024.
In June, I'll share Jesus' promise "that everyone who looks on the Son and believes in him should have eternal life" (John 6:40, ESV) in Birmingham, England, and Glasgow, Scotland. Please pray that God will prepare hearts in both cities and that many will respond to the Gospel during the God Loves You Tour events.
Will you also prayerfully consider a special gift to make this evangelistic outreach possible—and equip new believers with Bibles? Your gift will help provide a brand-new copy of God's Word to every person who makes a decision for Him in Birmingham and Glasgow next summer.
Thank you for your commitment to telling others about Jesus Christ. May God richly bless you and your family this Christmas season and in the coming year.
Sincerely,

Franklin Graham | President & CEO
---
A Life Changed for Eternity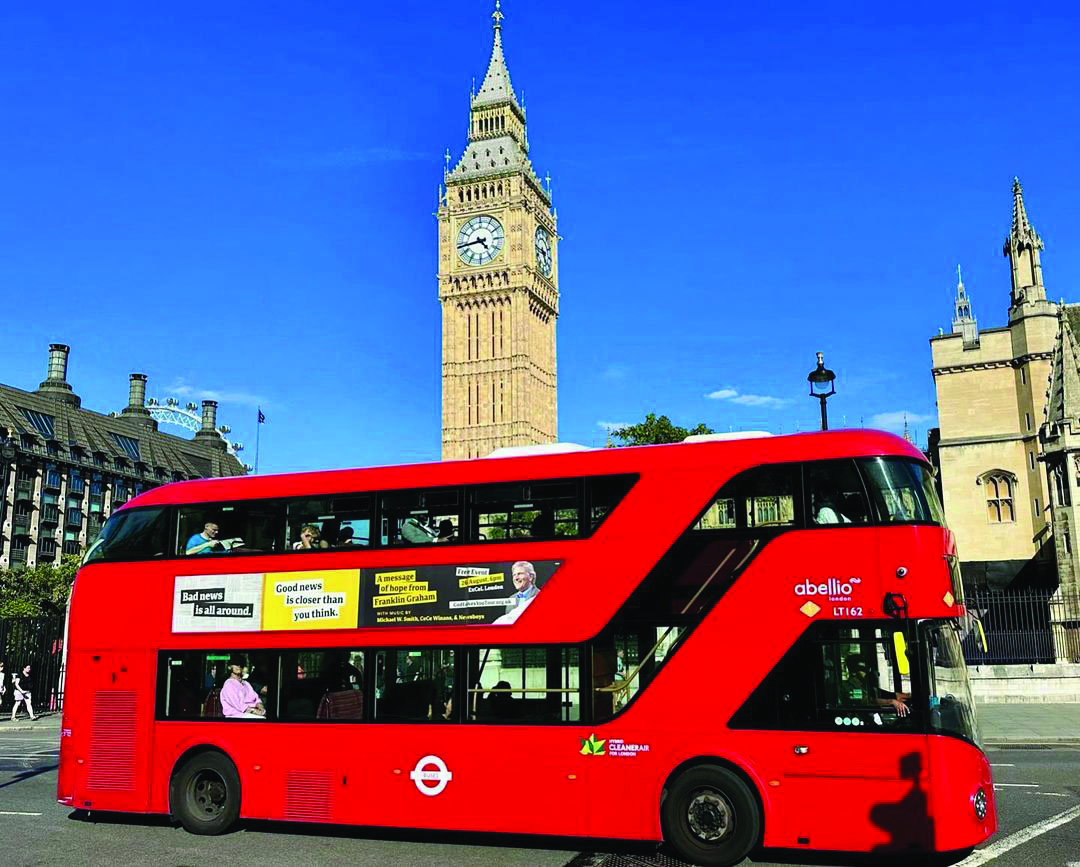 Rosalind had been coasting all her life. Now retired and elderly, she had reached a fork in the road. She was walking on the streets of London when an advert on a bus demanded her attention. Rosalind stood motionless as she read the words 'God Loves You.' She had never heard of Franklin Graham before, but the advert intrigued her. Standing on the pavement with her walking frame, Rosalind took note of the event and made plans to attend.
More than 10,500 people flooded into the ExCeL London on 26 August. Many had a smooth journey—including the thousands who came on the more than 130 coaches we arranged across England and Wales. But Rosalind came on her own, and her trip seemed like frustrations and delays at every turn.
Lost, tired, and trying to manoeuvre with her walking frame, Rosalind was ready to scrap her plans and head home. "This wasn't the right decision coming here today," she said to herself.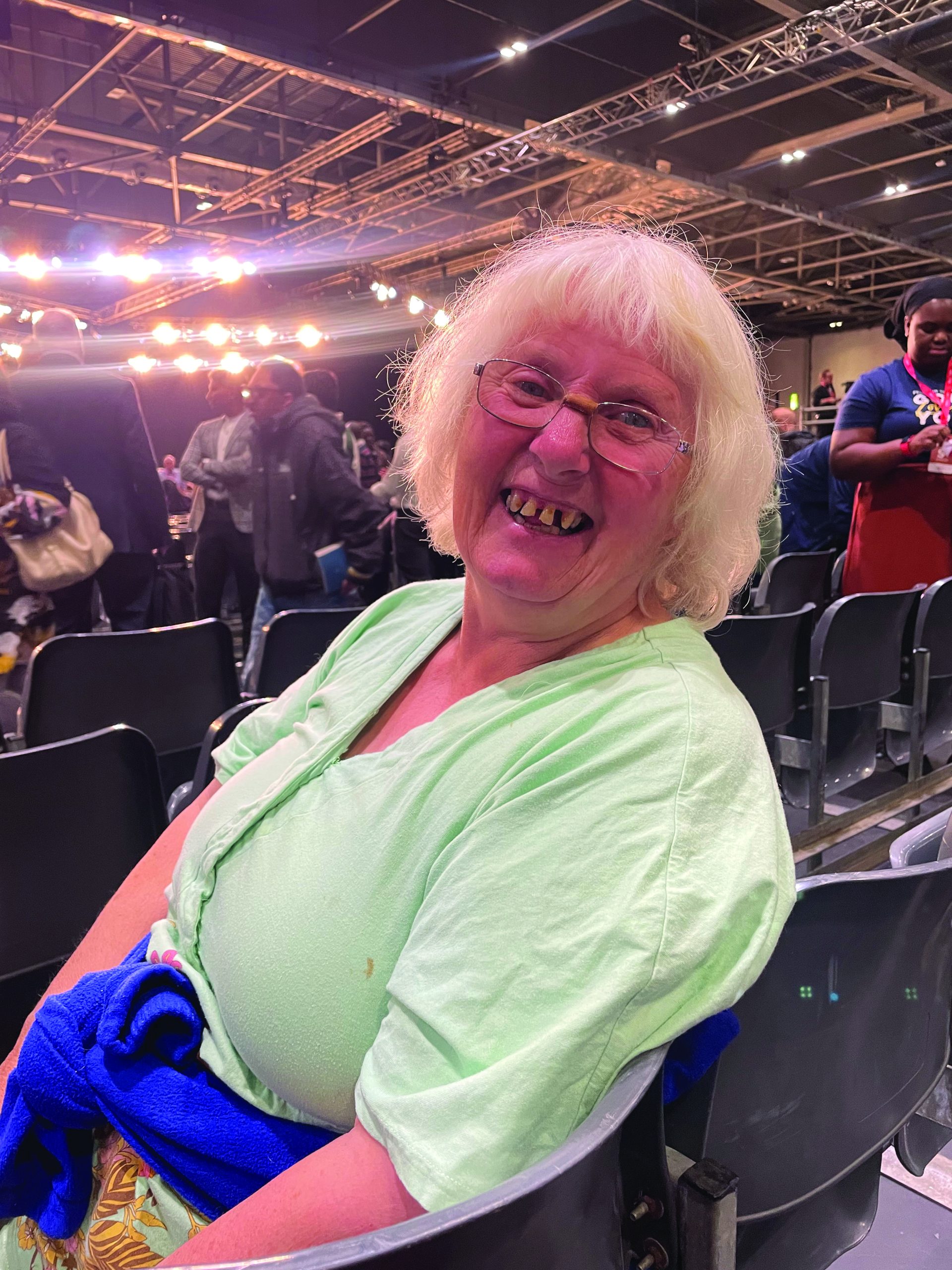 That's when a BGEA staff member saw her struggling and offered to walk her to the venue. They then began to talk about faith and the afterlife. Rosalind explained that she had always believed in a higher power, but didn't know where to place her trust. "If there is a God, it's probably Jesus Christ but I don't know enough about Him to be sure, she said. "That's why I felt like something was pulling me here today. I've reached a point in my life where I don't know where I'm going. I don't want to leave all the people I love and never see them again," Rosalind added.
When the pair finally arrived, the auditorium was buzzing with energy. "I know there's a reason why I'm meant to be here today. Thank you for helping me," Rosalind said as she hugged the staff member. She listened intently as Franklin Graham shared the Good News of Christ.
"If you're here today and you've never trusted Jesus as your Saviour, you can do that right now," Franklin said.
Something was pulling Rosalind forward, but she was worried about being amongst a crowd with her walking frame. She sat and watched until a familiar face came walking towards her—it was the same staff member coming to check on her. "I would like to go forward. Can you come with me?" Rosalind asked. The staff member gladly agreed.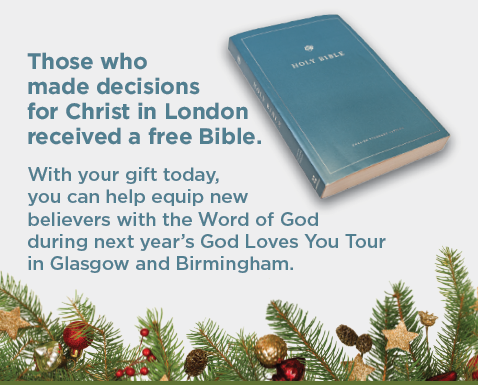 In front of thousands, Rosalind prayed to receive Christ as her Lord and Saviour. "Before, I didn't know who God was. Now, I am sure it's Jesus Christ," she said. After giving her life to Christ, Rosalind received a free Bible to help deepen her relationship with God. Four weeks later, Rosalind is continuing to grow in her faith using the free Bible she received.
"I'm reading my way through John right now," Rosalind said. "I love the personal connection between John and Jesus. It's the personal connection with Jesus that I now have." Rosalind has even joined a local church. "Everything changed for me that night. I'm forever glad I came," Rosalind added.
---
Will you give a Bible to a new believer?