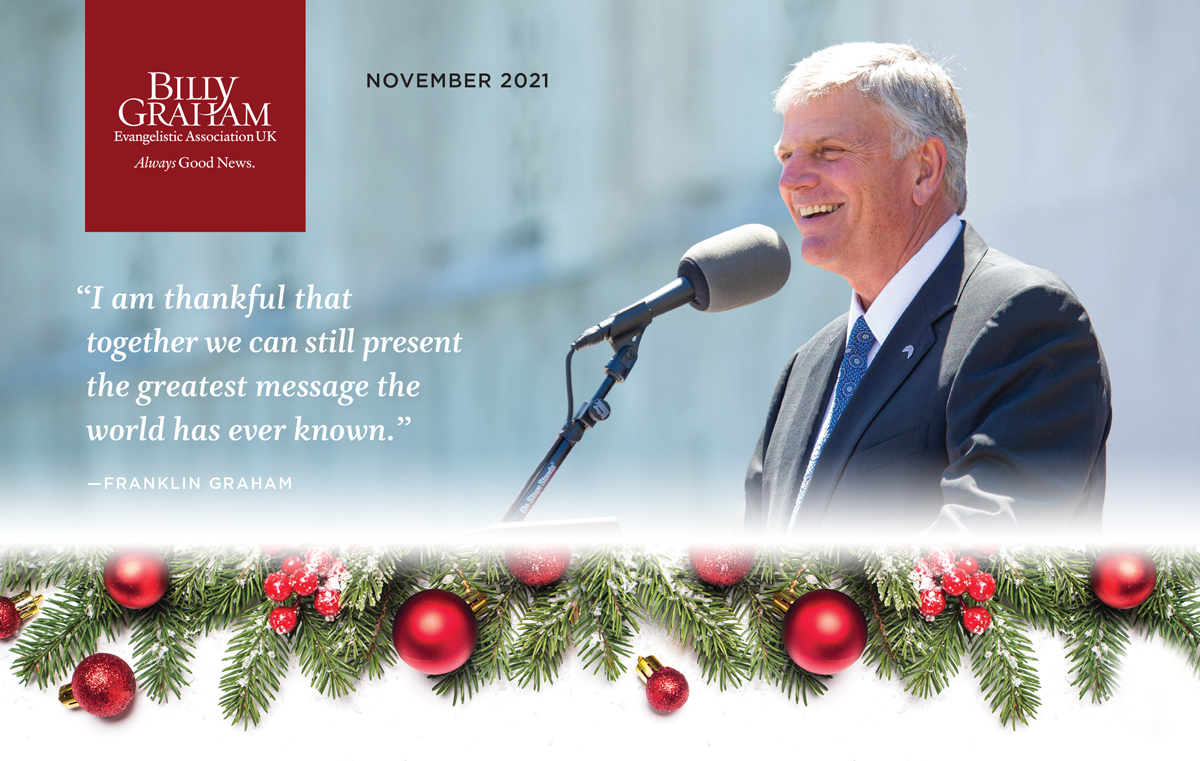 Dear Friend,
Thank you for your continued partnership in sharing the Gospel of Jesus Christ with people in the United Kingdom and around the world.
As we prepare to celebrate the Christmas season, I am thankful that together we can still present the greatest message the world has ever known: "Fear not, for behold, I bring you good news of great joy that will be for all the people. For unto you is born this day in the city of David a Saviour, who is Christ the Lord" (Luke 2:10–11, ESV).
People everywhere desperately need to hear this Good News. As our world continues to turn away from truth, God has given us marching orders to "preach the Word; be ready in season and out of season…always be sober-minded…do the work of an evangelist, fulfil your ministry" (2 Timothy 4:2,5, ESV). The Lord is faithfully opening doors and using friends like you to share His Word.
Because of your gifts and prayers this year, more than 15,000 people visited our PeaceWithGod.org.uk site and indicated they made a decision to follow Christ as their Saviour and Lord. We give God all the glory for what He's done! Our Billy Graham Rapid Response Team chaplains deployed in recent months to locations across the globe—including Plymouth, England—to minister to hurting individuals in the aftermath of crisis.
This autumn, we have been holding several Evangelism Summits in the UK to encourage and equip church leaders for their work of evangelism and discipleship—and we now have an exciting announcement about next year's God Loves You Tour across the UK. Visit GodLovesYouTour.org.uk to hear the news. We thank God for these opportunities to bless churches and pray that He will do a great work in our day to draw many to faith in Jesus Christ.
We thank God for you and your heart for the Gospel. Will you prayerfully consider how the Lord might lead you to continue sharing this "good news of great joy" this season? Through your gifts, you can share the Gospel, bring hope to those in crisis, and equip church leaders who want to impact others for the Lord.
May God richly bless you and your family with His peace this Christmas.




Franklin Graham | President

---
UK: EVANGELISM
Refocusing the church on evangelism for such a time as this
Over 1,200 church leaders and pastors across the United Kingdom gathered for the sake of the Gospel at Evangelism Summits hosted by the Billy Graham Evangelistic Association (BGEA) in Glasgow, Liverpool, and Cardiff. The fourth and final Summit will take place in London on 15th November.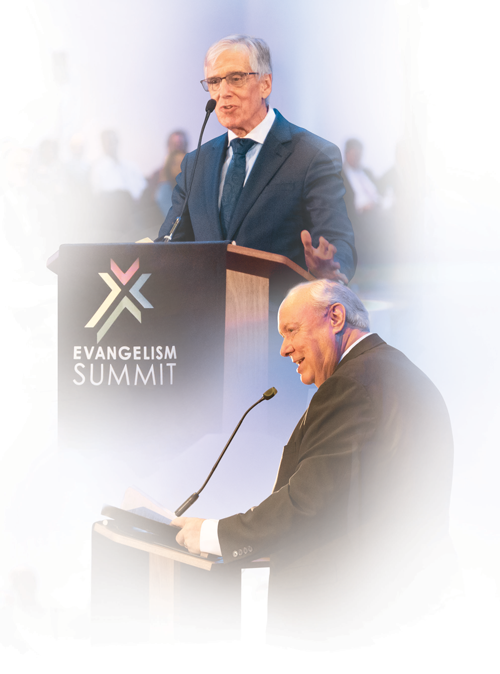 Globally recognised speakers encouraged ministry leaders to be bold in their evangelism efforts, urging them to keep the cross at the centre of all. "Consider our ministry in the shadows of the cross," explained David Bruce, BGEA's executive vice president of the Billy Graham Library and Archive and Research Center. One pastor said that hearing the speakers made him feel even more equipped to share Christ with others. The event came at the right time, he said. "As churches, we are always trying to develop and change, but this reminded us to refocus and simplify our message—which is always about the cross." The pandemic has left many ministry leaders feeling alone and depleted. One even described their evangelism ministry as a 'mess' that lacked direction.
Many admitted they needed to regain their boldness, and God brought renewal through these events. "We've never been so infused with encouragement and uplift," one delegate said. "We appreciate that this event is purely for pastors," another church leader added. "It can be a lonely journey, so we have to thank BGEA for organising an event like this just to encourage and uplift pastors in evangelism—we needed this more than ever."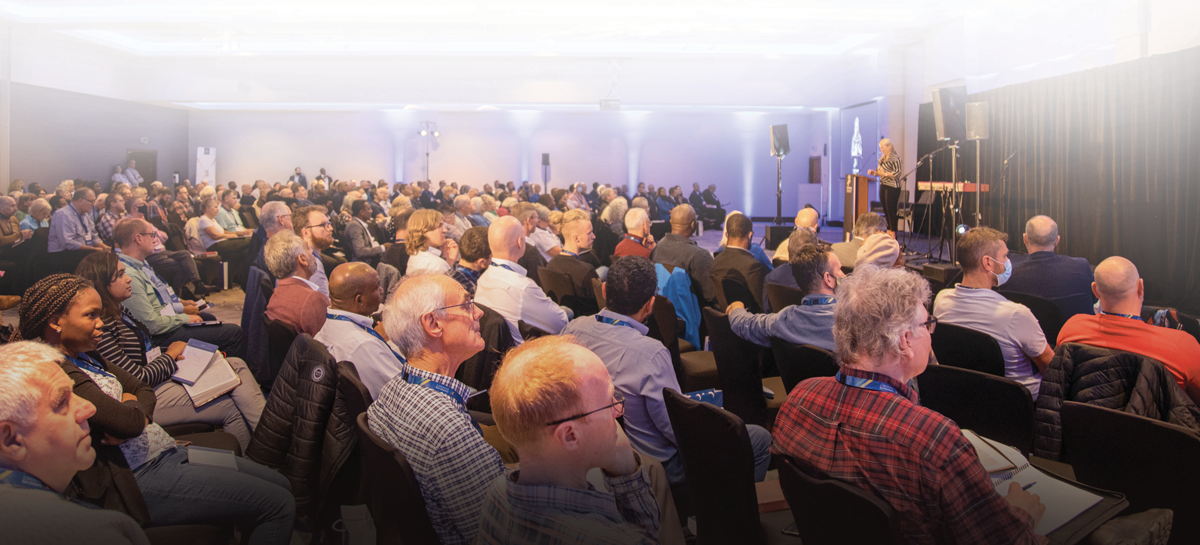 ---
UPDATE: BILLY GRAHAM RAPID RESPONSE TEAM
New life after the storm
Chaplains from the Billy Graham Rapid Response Team deployed to Louisiana in the United States, following the disastrous aftermath of Hurricane Ida which has killed dozens of people. That's when crisis-trained chaplains met with Michael Alwert, a police officer whose house was severely damaged by the storm. The chaplains gave Michael one of our booklets called Living in Christ, which includes the gospel of John.
When a chaplain asked Michael if he was going to Heaven, he initially said no and cracked a joke that he would be the guy operating the elevator between Heaven and Hell. But the chaplain wasn't distracted—he wanted the officer to be certain where he would spend eternity. "Do you want to be saved?" the chaplain asked. That's exactly what Michael wanted.
The conversation continued in his backyard. Michael talked with chaplains about the hole in his heart and his bitterness. They suggested that he search his heart and forgive his ex-wife whom he divorced three years ago, and to ultimately leave his problems in Jesus' hands. They also shared that he didn't have to earn God's favour or love; what he needed was a personal, one-on-one relationship with Jesus. "It made sense to me," Michael said, sharing that their clear explanations dispelled questions he'd had for years.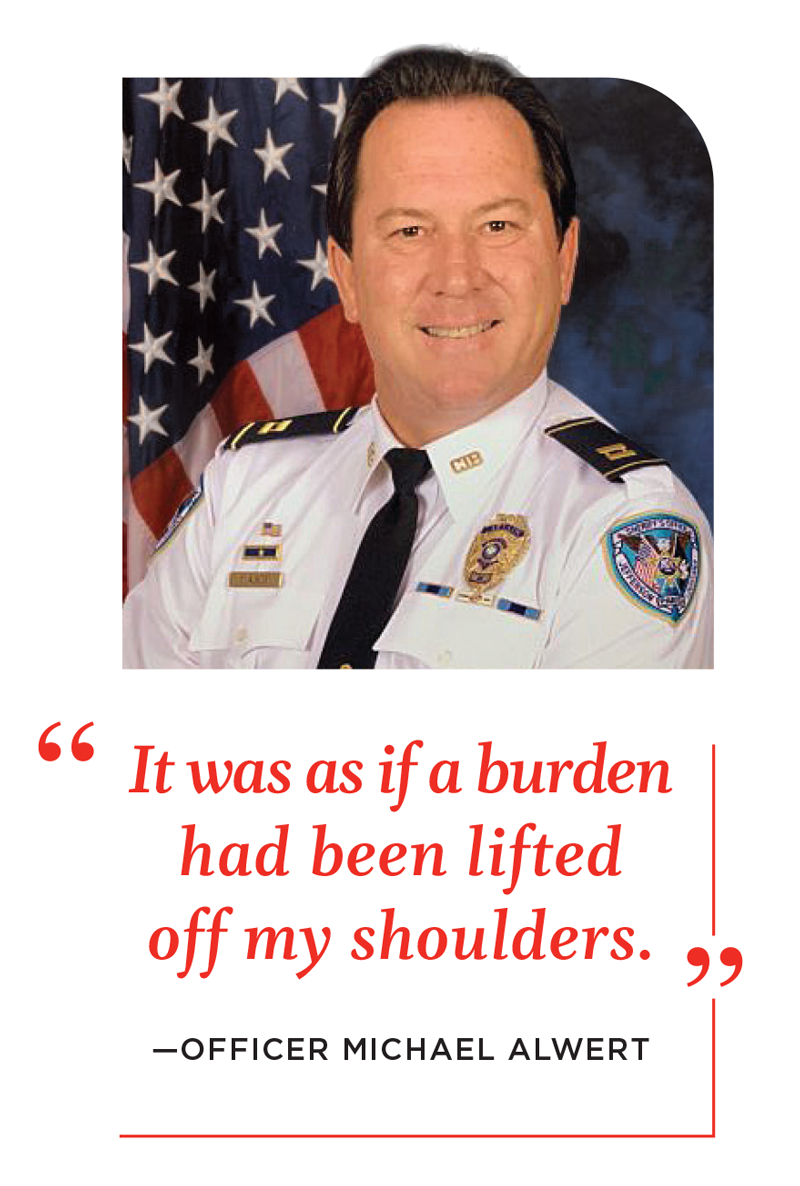 Michael prayed to ask God for forgiveness and committed his life to Christ. "I feel as though I was reborn on that day," Michael recalled. "It was as if a burden had been lifted off my shoulders." The chaplains also gave him a leather-bound Billy Graham Training Centre Bible to help him in his new walk with Christ.
When Michael returned to the office and told several of his co-workers about his good news—that he was now a Christian—some mocked and laughed at him. But when Joseph, his lieutenant, asked about his day, Michael was still honest. "I told him that I had been saved in my backyard," he said, his voice giving way to his emotions as he thought about the moment. Joseph immediately broke down in tears. "I tried to be strong and said, 'What's wrong? Why are you crying?' He told me they were tears of joy, that he was very proud of me, and he had been praying for years that someday I would be born again in Christ."
Michael had no idea, and yet, Joseph's prayers were answered. "Jesus Christ had a plan," Michael said. "That's how I know it's the right thing."
---
SEARCH FOR JESUS: INTERNET EVANGELISM MINISTRY
Woman finds forgiveness after years of painful guilt
Mary* was plagued with guilt. One Sunday evening, she visited BGEA's internet evangelism website, PeaceWithGod.org.uk where she was connected with one of our trained volunteers. She had a lot of pressing questions that she was seeking answers for, like, "How do I ask Him to forgive me?"
Mary explained that she was having trouble believing that her sins could truly be forgiven. She felt riddled with guilt that she could not shake. The volunteer explained that through Jesus Christ, we are truly forgiven through grace and nothing else. "If you turn to Jesus, He will forgive you and help you overcome sin. That doesn't mean you will never sin again, but you have Jesus by your side to help you," the volunteer replied.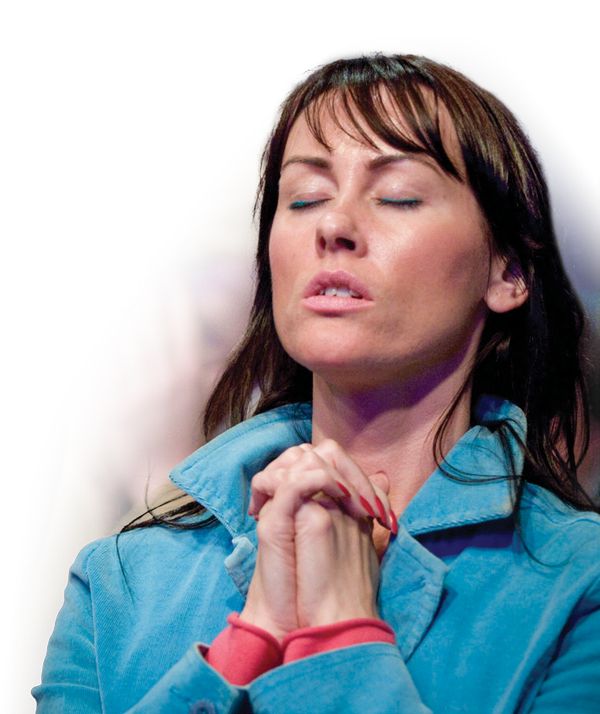 Mary was then eager to pray for forgiveness. With the volunteer's guidance, she asked Jesus to come into her life and forgive her sins.
After praying, the volunteer shared BGEA's free online discipleship course to help her grow her relationship with Christ. The volunteer also encouraged her to read the Bible each day.
"This will forever stay with me. … This is the turning point in my life and you helped me with this, and for that I am sincerely grateful," Mary typed. "I can never thank you enough."
*Name and photo changed.
---
YOU CAN MAKE A DIFFERENCE 
God works through people like you to change the world by the power of the Gospel.
PROCLAIM THE GOOD NEWS THROUGH FESTIVALS AND CELEBRATIONS: Though people search for truth everywhere, life-changing truth is found only in Jesus Christ. When you give a gift for Festivals and Celebrations, you help give people in places around the world the opportunity to hear the Gospel message of God's eternal love.
REACH SEARCHING HEARTS WITH THE GOSPEL: Your gift to Internet Evangelism is vital to keep this outreach effective and available to people everywhere who search for truth, even where the Gospel cannot be shared openly. The ministry is active worldwide in English, Spanish, Portuguese, Arabic, Mandarin Chinese, and Korean.
SHARE THE HOPE AND HEALING OF JESUS CHRIST: Your contribution in support of the Billy Graham Rapid Response Team helps bring comfort in Christ's Name to hurting communities and broken lives.