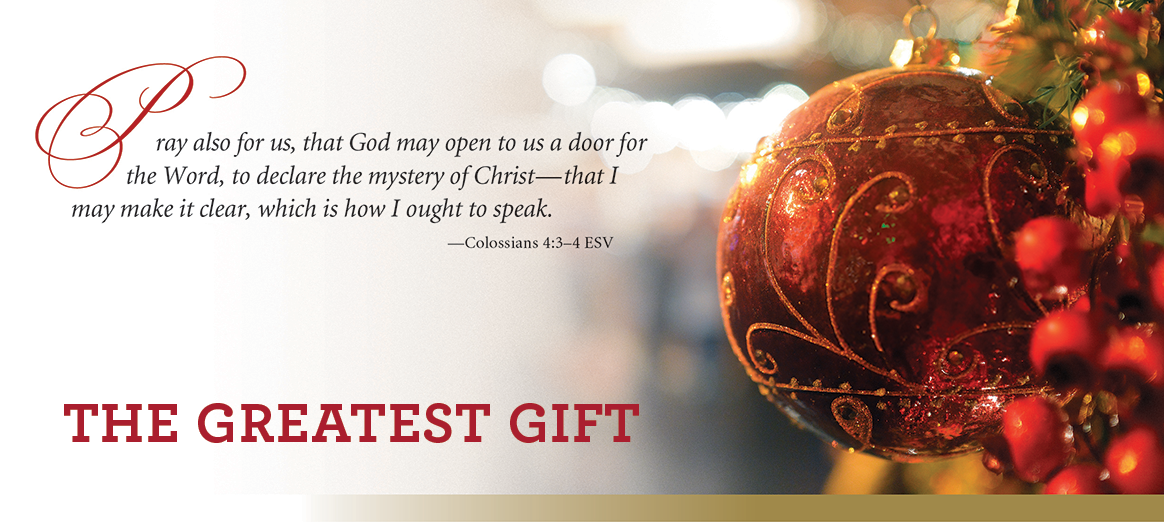 Dear Friends,
When the angel appeared to startled shepherds in the hills outside Bethlehem, he heralded this long-awaited announcement: "Do not be afraid, for behold, I bring you good tidings of great joy which will be to all people. For there is born to you this day in the city of David a Saviour, who is Christ the Lord." (Luke 2:10-11, NKJV).
It was incredibly good news for these shepherds 2,000 years ago, and it's still good news today. Because of Jesus Christ, we've been rescued from the greatest bondage of all—sin—and delivered from fear to everlasting joy.
The shepherds quickly told others about Jesus. The Bible says, "Now when they had seen Him, they made widely known the saying which was told them concerning this Child. And all those who heard it marvelled at those things which were told them by the shepherds." (Luke 2:17-18, NKJV).
Do you have friends, neighbours and coworkers who still live in the darkness of fear, without the hope and joy of the Saviour?
That's why we're holding one-day evangelistic events through the Graham Tour next year in eight cities across the UK. There are many people in the UK who desperately need the Lord, and you can help share the greatest gift with them—Jesus Christ. I'm looking forward to what God will do and how He will change lives forever. This Gospel work would not be possible without your valued support.
Begin praying now for your family and friends who need Christ, and make plans to invite them to join you at the Graham Tour event near you. You can find out more details on our website GrahamTour.org.uk. If your church isn't participating in the tour yet, please share the website with your pastor and encourage your church to be a part of this evangelistic effort.
I thank God for you and your heart to reach lost people with the life-changing message of the Gospel. We count on your prayers and your support. Your Christmas gift this season will help reach many more people with the hope of Jesus Christ.
May the love and comfort of the one, eternal Saviour comfort and strengthen you this Christmas as you celebrate His birth, experience His resurrection life and eagerly await His return.
May God richly bless you,

---
A SPECIAL MESSAGE FROM FRANKLIN GRAHAM
---
HE HAD IT ALL—BUT SOMETHING WAS MISSING
Alex had been searching for a purpose his whole life. At the age of 31, he was a doctor and an engaged man. He had everything he wanted—yet something was missing.
Alex didn't have a religious upbringing, but he and his fiancee wanted a church wedding. They decided to visit a church, to see what it was life. "The energy of born-again Christians scared us," Alex recalled. The couple jumped from their seats and left.
On the way out, the pastor told Alex about a free event in Liverpool and how the evangelist Billy Graham would be there. "It's free. Why not?" Alex thought to himself, and the couple made plans to attend.
On 17th July 1984, Alex witnessed 35,000 people fill up Liverpool's Anfield Stadium. "The atmosphere was electric," he recalled. As Billy Graham preached the Gospel, the Holy Spirit moved thousands of searching hearts—including Alex's.
Billy Graham then invited the crowd to make a decision for Jesus Christ. There and then, he gave his life to Christ. Alex spoke with a local Christian who had been trained to pray with new believers during the Crusade, and he signed a card to show what Christ had done in his heart. Alex carries this card with him everywhere he goes, as a reminder of that special moment decades ago when he found his purpose in Jesus Christ.
"God took out the rubbish of my heart—smoking, drinking, gambling and fornication. That's all gone," Alex said. "He gave me a new beginning." His then-fiancee also received Jesus Christ at the same event, and 35 years late, they are still walking in this new life together as husband and wife.
Alex became a pastor, and today he leads a ministry that is dedicated to seeing lives transformed by the Gospel. In late October, Alex was one of more than 300 who came together at a launch event in Cardiff, Wales, to kick off preparations for Franklin Graham's 2020 Graham Tour in the region, and nearly 2,700 others attended similar events in seven additional tour cities across the UK.
Alex has a burden to help others hear the same Good News that changed his life. "I need to be involved with the Graham Tour because of the life changing impact it has on people when the message of truth is preached," Alex said. "It's such a unifying message that brings churches together—there isn't anything like it in the world."
At a launch event 200 miles to the north in Liverpool, another pastor shared his experience with what God can do when His people unite for the Gospel. He and his church joined 200 other congregations for Franklin Graham's Festival in Blackpool in 2018—and God did amazing things. He was excited to think of what could be coming next.
"The Festival two years ago was the tip of a very sharp plow going into fallow ground in our country, and it will go right across the United Kingdom. We believe it," he said to hundreds in attendance. "I cannot commend this to you highly enough. I would encourage you to get involved."
Will you get involved now—whether by volunteering before or at the actual tour event? If you would like to sign up, visit GrahamTour.org.uk, where you can also see the upcoming training sessions near you.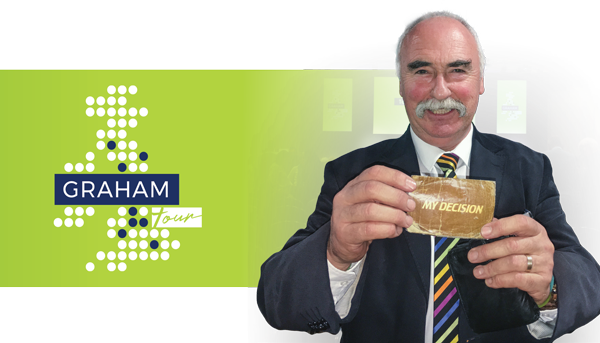 ---
YOU CAN HELP OTHERS FIND A NEW LIFE IN CHRIST
God works through people like you to change the world by the power of the Gospel.
PRAY: Please pray that God will begin softening hearts across the UK before the Graham Tour beginning May 2020.
HELP SHARE THE HOPE OF JESUS CHRIST ACROSS THE UK: Your gifts and prayers for the Graham Tour will help give people all over the United Kingdom the opportunity to hear about God's love and find salvation through faith in the Lord Jesus Christ.


Help with a gift