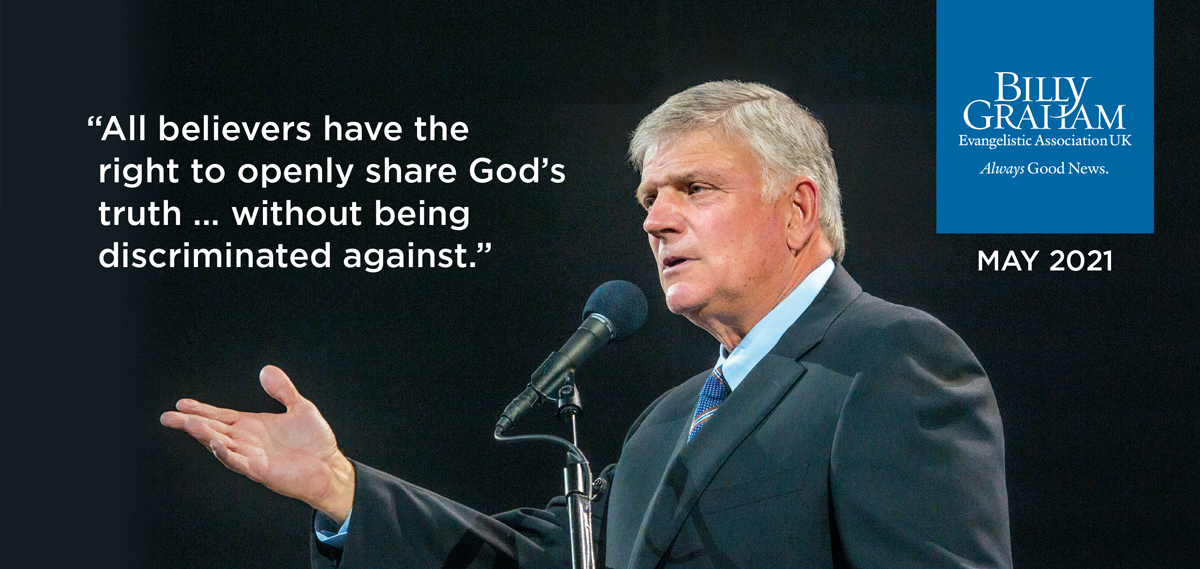 Dear Friend,
When I was younger, it was not uncommon to hear people say, "I may not agree with what you say, but I will fight for your right to say it." We fundamentally believed in liberty—in freedom of religion, speech, and thought.
Today, however, a radical movement is racing across the United Kingdom, and many other nations, to censor and erase anyone or anything that a vocal minority finds offensive. This "woke" movement has no problem with blatant forms of sin being displayed publicly on television and the internet. But they want to ban expressions from people who embrace traditional views of morality, family, and religion. This "cancel culture" doesn't allow for free speech. When they find a sports team, a politician, or an entertainer who stands for Biblical values, they immediately want to silence and remove them.
"This is a huge win … . This helps every Christian and church in the UK."
We experienced this in Blackpool, England, when a small but influential group of activists protested our 2018 Lancashire Festival of Hope, where I was going to be preaching the Gospel. When LGBT activists piled on Twitter, complaining about the evangelistic event because they disagree with my convictions about marriage, they pressured the local bus company to remove our ads from their vehicles. After the Festival, we filed a case in the court system to fight this injustice.
We praise God that a judge in the United Kingdom recently ruled the Blackpool Borough Council and Blackpool Transportation Services Limited had discriminated against us. It was a strong and clear rebuke. Ruling overwhelmingly on our side, the judge said that Blackpool "had a wholesale disregard" for the Festival's right to freedom of expression while at the same time giving obvious preference to the rights and views of the LGBT community. She said that sincerely held religious beliefs about marriage do not make the people or organisations who hold those views "extremist."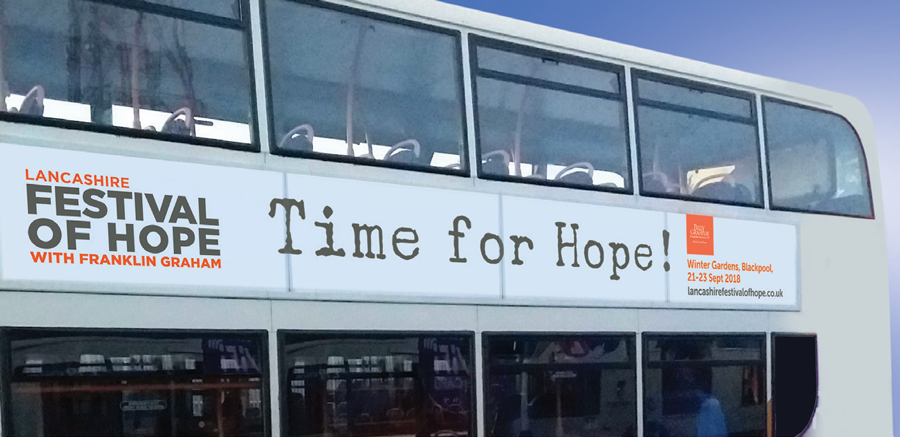 This is a huge win in the battle against "cancel culture." This helps every Christian and church in the UK, confirming what we already knew to be true: All believers have the right to openly share God's truth—including the Gospel itself—in the public square without being discriminated against, threatened, or punished by those who want to keep them quiet. It is essential to continue to stand up for religious liberty, which includes the rights to assemble and to speak and act on our Biblical convictions.
We cannot allow the cancel culture movement to silence the church. We must remain faithful in this season to be "speaking the truth in love" (Ephesians 4:15, ESV) as God gives the opportunity.
A British Social Attitudes survey showed that less than half of Brits belong to a religious group. The percentage fell from almost 70% in 1983 to just 47% in 2018 — including some who once called themselves Christian.
"Less than half of Brits belong to a religious group."
Though our nations drift further away from the Bible, we can stand on the certainty of His promises and keep sharing His truth. Later this autumn, I am planning to preach the Good News in eight cities along the historic US Route 66, which is nicknamed the "Main Street of America." We're calling this the US Route 66 God Loves You Tour. Please pray for these opportunities to share the Gospel through the heart of America.
My son Will hosted a live telecast on Good Friday from the Billy Graham Library in Charlotte, North Carolina. He shared the Gospel with more than 40,000 viewers, and we praise God that over 400 people indicated they made decisions for Jesus Christ.
Alyson* was one of those who responded to the Good Friday invitation online. She shared, "I 100% want to accept Jesus as my Saviour and have Him in my life." For months, she has been reading the New Testament daily, wanting to know if God was real and what He wanted from her. When Alyson called in to speak with a volunteer about Christ's sacrifice for our sins, she called on the Lord for salvation and is now connected to our online interactive discipleship course to help her grow in her new faith.
Through your prayers and gifts, you are taking the Gospel to thousands of people and holding fast to God's Word. Thank you for your faithful partnership in this ministry.
May God richly bless you,

Franklin Graham | President
---
PASTORS FROM BLACKPOOL CELEBRATE VICTORY RULING
We spoke with church leaders who shared their joy over the court ruling's impact on the legal rights of Christians in the UK:
• "This is a very significant outcome for Christians and all those concerned with free speech here in the UK. It's so essential that we never take for granted that we live in a country where we are still at liberty, protected under law, to say what we believe and hold to be true. We should praise God for the overwhelming clarity of this judgement." —Rev. Steve Haskett
• "The ruling gives encouragement to churches and Christians to stand up for their faith in the knowledge that they have the legal right to do so." —Stewart Whitley
• "I am delighted with the outcome of the recent court case. I believe this corrected an injustice done to the local Christian community. It upheld the human rights of Christians who wish to share their faith in a public space without facing discrimination." —Pastor Rick Oldland
---

BUCKINGHAM PALACE DEPLOYMENT
LONELY AND EXHAUSTED
Demi* was lonely and exhausted. Upon hearing the news of Prince Philip's death, Demi decided to visit Buckingham Palace. That's when she met one of our crisis-trained chaplains. Demi shared that her demanding work schedule makes it difficult for her to connect with other people, and she was grateful to be speaking with someone in person.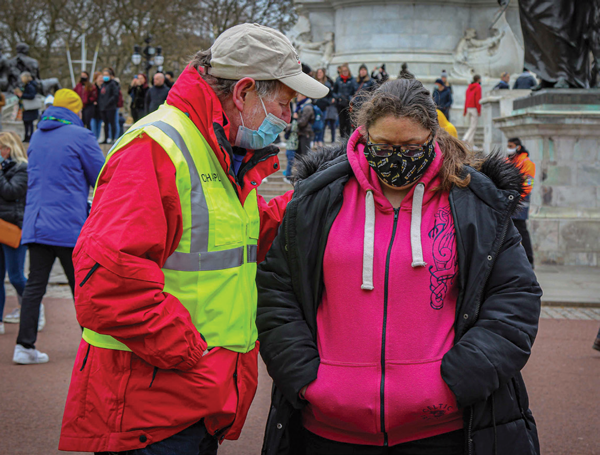 When the conversation turned to faith, Demi explained that she was confused about her salvation.
The chaplain told her she can receive Jesus Christ in her heart today and have her sins forgiven. Demi wanted to know more.
With the chaplain's guidance, Demi read through the "Steps to Peace with God" booklet.
"Be certain," the chaplain encouraged her, "and put your trust in Jesus Christ." And so she did.
Demi joyfully accepted Jesus Christ as her Lord and Saviour and prayed to surrender her life to Him.
READY FOR A NEW BEGINNING
Daryll* was passing by Buckingham Palace when he decided to stop and watch the crowds. That's when he took notice of a ring on the finger of a Billy Graham chaplain—and then a conversation started.
He asked what the ring symbolised, and the chaplain explained that it's a Christian symbol. Daryll responded by showing what he called his "Jesus cross", a necklace which he inherited from his grandmother.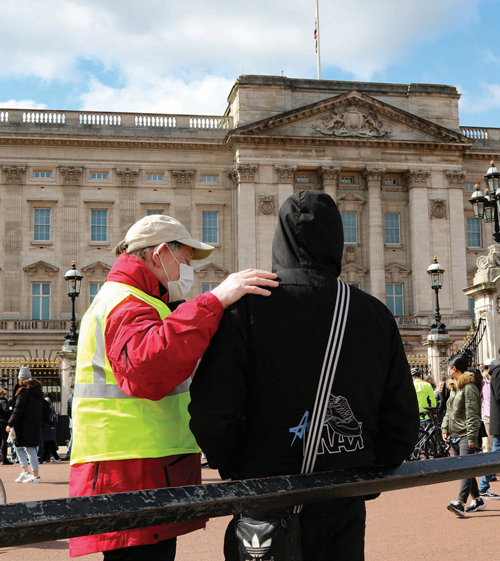 "Do you believe in Jesus Christ?" the chaplain asked. Daryll took a moment to answer. "Sort of," he shrugged.
The chaplain then asked him a very important question: "Do you want to believe?" Eager to hear more, Daryll listened as the crisis-trained chaplain shared the Gospel.
"God so loved you that He gave His only Son to die on the cross in your place," the chaplain said as he pointed to an image of a cross in the booklet. "That's what the meaning of the cross is. Jesus Christ wants to come into your heart and give you a new life."
Ready for a new beginning with Christ, Daryll prayed to accept Jesus Christ as his Lord and Saviour. When the chaplain asked if he meant what he prayed, Daryll quickly replied, "Yes, every word of it!"
*names and photos changed. 

'I feel change in myself'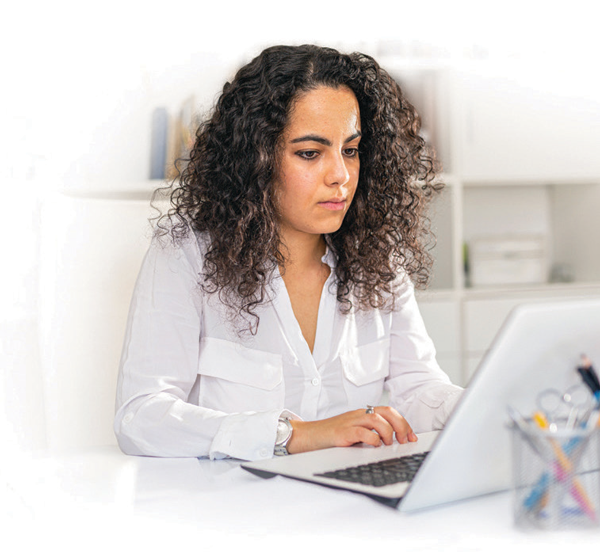 Aviva* contacted one of our online chat volunteers, Ellen,* and shared, "I was born Jewish, but something cried out to me to learn and accept Jesus in my life." Ellen corresponded with her for several days, answering her questions and pointing her to Scripture. As Ellen explained the plan of salvation, Aviva told her she wanted to repent of her sins and invite Jesus Christ into her life, which she did. As they continued communicating, Aviva said, "I feel change in myself—change for the better. And I've tried to change on my own, only to fail. But [Jesus] is helping me become a new person. I feel joy today. I feel hope today. I am not afraid!" Aviva shared her testimony with her Jewish mother and said she would not be ashamed to tell other people about the life-changing power of the Messiah, Jesus Christ. We praise God for this daughter of Abraham who is now a joint-heir with Jesus!

YOU CAN MAKE A DIFFERENCE
God works through people like you to change the world by the power of the Gospel.
HELP IN A VARIETY OF WAYS: The Gospel changes lives—now and for eternity. When you designate a gift for Where Most Needed or Festivals and Celebrations, it is available for immediate ministry opportunities and you can help give people around the world the opportunity to hear the Gospel message of God's eternal love
REACH SEARCHING HEARTS WITH THE GOSPEL: Your gift to Internet Evangelism is vital to keep this outreach effective and available to people everywhere who search for truth, even where the Gospel cannot be shared openly. The ministry is active worldwide in English, Spanish, Portuguese, Arabic, Chinese and Korean.
SHARE THE HOPE AND HEALING OF JESUS CHRIST: Your contribution in support of the Billy Graham Rapid Response Team helps make it possible for crisis trained chaplains to bring comfort in Christ's Name to hurting communities and broken lives.