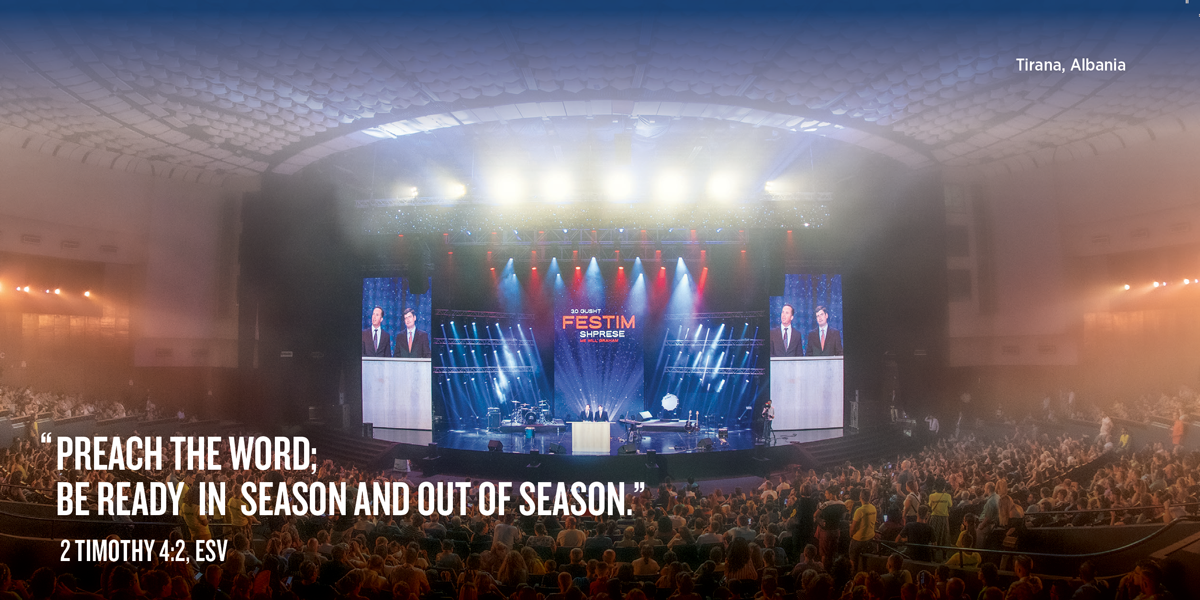 Dear Friend,
As we head into the new year, my heart is full of gratitude and thanksgiving for you. Through your prayers, sacrifice and support, you come alongside this ministry as faithful partners in the proclamation of the Gospel. In a confused and chaotic world, you are making an eternal difference as the lost — those who are wandering through life without eternal hope — find the truth of Christ. They're discovering their peace, purpose, joy and security in Jesus.
As you know, we live in a unique time in history. Whether in the United Kingdom or on the other side of the globe, people's attentions are stretched like never before. We seemingly have direct access to all the information known to man through small devices that fit in our back pockets, and yet we are more confused than ever. We've allowed athletes, musicians, movie stars and politicians to define what is right and wrong.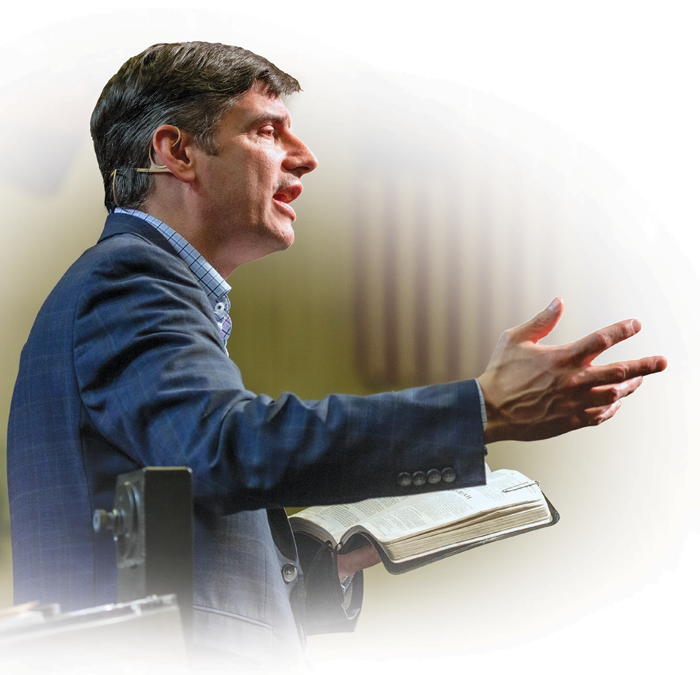 As a result, we're drifting further and further from the Biblical truth of the Gospel. Because of this reality, we must continue to do everything possible on both a personal and corporate level to continue shining the bright light of the Saviour in the midst of the darkness. We must be faithful in directing people to "the way, the truth, and the life" (John 14:6, NKJV).
The last time I wrote to you, I was preparing to preach in Albania, a formerly communist country that was the first one in the world to openly and constitutionally declare itself an atheist nation. It was illegal to be a follower of any religion. Local Christian leaders told me that when communism fell in 1990, fewer than 20 known Christians existed in the entire country.
Nearly three decades later, 30,000 believers live in Albania. We praise the Lord for that incredible growth, while also recognising that in a country of nearly 3 million, many are still eternally lost.
Into this spiritual climate, God called me to become the first evangelist with the Billy Graham Evangelistic Association (BGEA) to proclaim the hope of Jesus Christ in Albania.
It was a historic gathering and we saw many respond to the invitation, surrendering their lives to Jesus as their Saviour.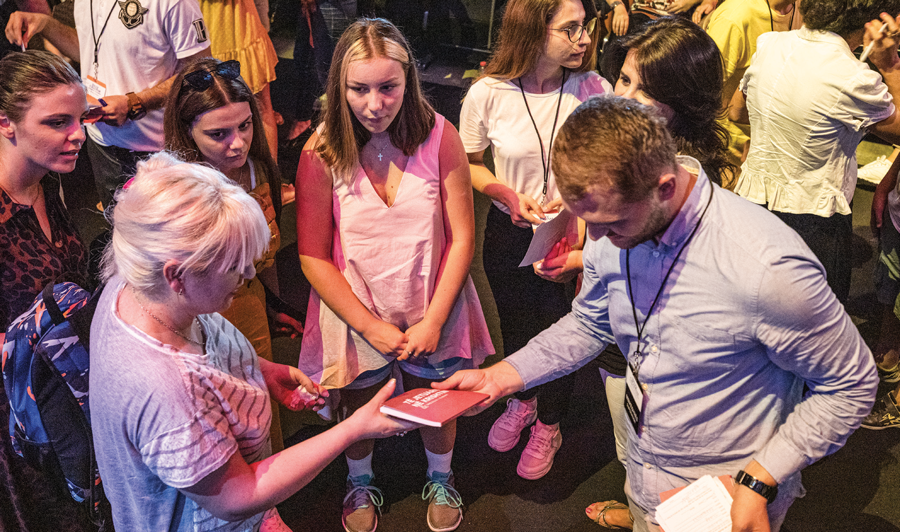 More than 2,500 people heard Will Graham preach in Tirana, Albania. 
Recently, Albania suffered its deadliest earthquake in more than 80 years. We pray that God will strengthen the church to support those who are mourning loved ones and the communities that are trying to rebuild. Please keep the people of Albania in your prayers.
My father will be preparing to preach in the UK on an eight-city tour in the summer of 2020. In preparation for the tour, BGEA is hosting a National Day of Prayer on 25th January. Will you stand with churches and Christians across the UK in asking God to draw people from all walks of life to Himself during the Graham Tour?
My friend, though we're inundated with bad news, the truth is that God is still at work today. He's still opening doors for us — for the ministry of BGEA and for you and me personally — to share the hope that is found in Him alone. Thank you for investing in the proclamation of the Gospel so that lost souls in this country and around the world can hear the Good News and be born again in Christ Jesus.
May God richly bless you,

Will Graham
---
HE ARRIVED AN ATHEIST, BUT LEFT AS A CHRISTIAN
Colin Buchanan had been a proud atheist all his life. At the age of 44, he'd never attended a church service or picked up a Bible. "I wasn't interested in changing that. I was happy living the high life," Colin said.
In 1991, his wife, a devout Christian, heard that Billy Graham was coming to preach at Celtic Park stadium in Glasgow. She quickly made plans to attend and asked Colin to come with her. On 4th June, Colin and his wife sat with thousands of other people in Celtic Park stadium. "Rubbish!" Colin grumbled to himself, as Billy Graham preached the Gospel.
After sharing the Good News of Jesus Christ, Billy Graham asked the crowd to make a decision for Christ. While hundreds came forward, Colin proudly walked out of the stadium. He was content with his decision to ignore Billy Graham's message. However, something wasn't right with Colin the day after. Feeling restless and agitated, he went to his local pub. On the drive there, something stirred in Colin's heart. "An overwhelming thought came into my head," Colin remembers. "I have two roads, and I have to pick one."
He made a detour to Celtic Park stadium, where Billy Graham was again preaching the simple Gospel of Jesus Christ. "I cannot remember anything else about the journey from that point until I found myself sitting in the stadium, out in the open with the rain pouring down," Colin remembered.
Billy Graham preached to the crowd as he did the night before. This time, something was different for Colin. "As if a switch had been flicked. I said out loud, 'It's true, Christ died for me!'" The Holy Spirit moved in Colin in ways he couldn't have imagined.
"As if a switch had been flicked. I said out, 'It's true, Christ died for me!'"
That evening, Colin accepted Christ as his Lord and Saviour. After that transformative moment in Celtic Park stadium, Colin became a pastor and committed himself as a servant of the Lord. He is thankful that God used the ministry of Billy Graham to awaken his soul and find the only true hope found in Christ. Colin now wants to help others experience the same hope, and he is partnering with the Graham Tour 2020, where Franklin Graham will be sharing the Gospel in eight cities across the UK.
"This is why I want to get involved with the Graham Tour. Like me back in 1991, there are still so many people that need to hear the Gospel," Colin said. "God will use Franklin Graham to transform many more lives."
Colin wants to encourage everyone to pray for the upcoming Graham Tour, that God's mighty power will come through and move the hearts of thousands of people in the United Kingdom — the same way the Holy Spirit moved in his.
"Prayer is absolutely central to the work of God through Franklin Graham's ministry," Colin added. "Prayer is powerful. There is always hope — because Jesus can change everything."


FINDING PEACE IN THE WAKE OF TRAGEDY
On the afternoon of 29th November, 2019, a devastating terror attack unfolded on London Bridge, killing two people and injuring three more. As anguish and fear filled the hearts of the local community, chaplains from the Billy Graham Rapid Response Team (BG-RRT) deployed to London to offer emotional and spiritual support to those in need.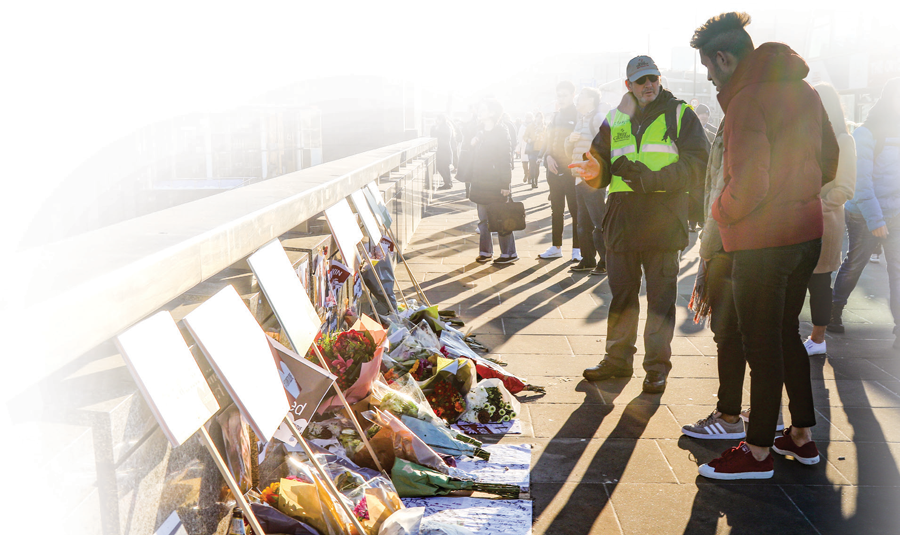 Upon hearing the harrowing news, Joanna,* who moved from Germany to London four years ago, felt compelled to show love to the city she now calls home. Tears ran down Joanna's face as she placed flowers at the memorial site. Noticing Joanna's troubled heart, a BG-RRT chaplain approached her and offered her a handkerchief. The two began conversing, and then the chaplain asked if she could pray for Joanna. She accepted, and the pair stood still in prayer.
"Do you have peace?" the chaplain asked her. Joanna replied that she had never experienced peace and didn't know where to find it. The chaplain took out a "Steps to Peace with God" leaflet, a simple resource that shares the basics of the Gospel message, including an illustration that shows people separated from God by a deep divide.
With the help of the chaplain, Joanna read through the steps to receive peace with God. As they finished, the chaplain asked: "Which side are you on?" Pointing to the leaflet's illustrations of God's abundant love for us, Joanna said, "this side." "When did you decide this?" the chaplain asked. With her heart full, Joanna responded: "Just now!"
We praise God for His everlasting goodness, and that even in times when it seems that evil has prevailed, the love of Jesus Christ will always overcome the darkness. We pray that just like Joanna, thousands of others may find peace in coming to Christ through the ministry of the BG-RRT chaplains. We praise God for using friends like you to bring more troubled hearts back to Him.
---
YOU CAN MAKE A DIFFERENCE 
God works through people like you to change the world by the power of the Gospel.
PRAY: Join with other Christians and churches across the UK in prayer on 25th January for a National Day of Prayer, lifting up the coming Graham Tour and asking God to prepare hearts and minds to be changed with the Gospel.
ATTEND: Mark your calendar now and plan to bring your family members and friends to the upcoming nationwide prayer meeting. Let's ask the Lord to soften hearts and open doors for the Gospel before the Graham Tour begins. Find out the locations of the prayer gatherings at GrahamTour.org.uk.
GIVE: When you make a gift to our Festivals and Celebrations or Billy Graham Rapid Response Team ministries, you are paving the way for someone to hear the life-changing message of the Gospel, whether it's at an event like the upcoming 2020 Graham Tour in the UK, or in the wake of a tragedy or crisis like the Doncaster flooding or London Bridge attack.
Help with a gift