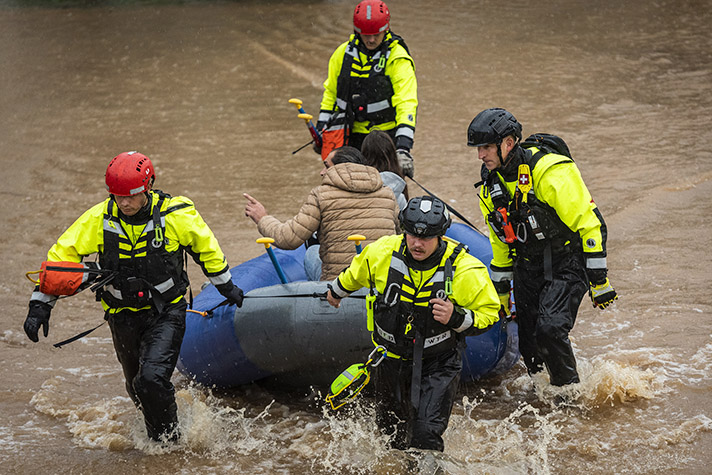 The Billy Graham Rapid Response Team (RRT) is offering emotional and spiritual care in North Carolina, US, where flooding inundated a residential campground and claimed five people's lives last week.
About 50 miles north of Charlotte, dozens were rescued—and others went missing—at the Hiddenite Family Campground on Thursday when floodwaters quickly rose around the South Yadkin River. Some were trapped in their vehicles or clinging to their campers at the time of rescue.
"With an event like this that is so tragic, our hearts, our thoughts and our prayers are with the individuals who lost so much, especially those who lost loved ones as a result of this unexpected flash flooding," said Josh Holland, RRT's assistant director. A one-year-old and teen were among those who died.
"We have crisis-trained chaplains who are committed to walking through this with the community," Holland continued. "We will do whatever we can to let the community know that even in the most desperate of circumstances there is a God in heaven who loves them, and that hope and peace can be found through Jesus Christ."
As the 45th deployment of 2020, crisis-trained chaplains are serving in the flood's aftermath by offering a listening ear and prayers to those processing the heartbreaking disaster. One chaplain plans to lead a critical incident stress debriefing with first responders later this week, particularly for those on search and rescue teams.
The Rapid Response Team focuses on interacting with residents in man-made and natural disasters—and also being with those on the frontlines who have experienced emotional trauma or have spiritual questions about what they've witnessed. Consequently, many of these chaplains have backgrounds as first responders and know what it's like to have a career of crisis.
In addition, chaplains are continuing to minister following hurricanes Laura, Delta and Sally in five locations throughout Louisiana and Alabama.
Please keep all those affected by storms in your prayers.