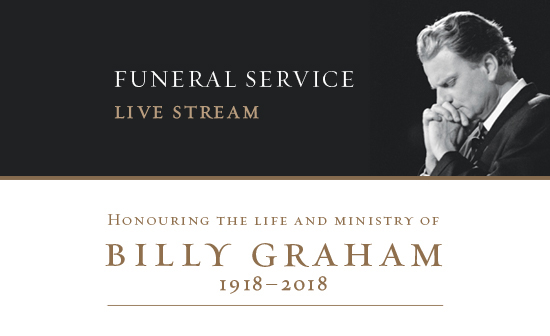 Dr Graham's funeral will be available to watch and listen to across the United Kingdom.
Beginning at 17:00, the funeral will last approximately 90 minutes. It will include music, contributions from family members and Franklin Graham will share a Gospel message.
Throughout his ministry, Billy Graham was a pioneer in the use of technology to proclaim the Gospel of Jesus Christ by every effective means available. On many occasions, his meetings in the United Kingdom were broadcast across the country, first by landline and then by satellite. Once again, Billy Graham's message will be shared all across the UK—this time through the live stream.
Churches across the UK are opening their doors to show the stream. You can find a church near you HERE.
If you are unable to make it a church streaming venue, the funeral will be available to view on the below.
---
Web
You can watch a live-stream by visiting memorial.billygraham.org/live-stream/ 
This stream is also showing recordings of the motorcade, President's visits to the Graham family home and testimonies.
---
Television
You can watch the funeral live on
TBN
Freeview channel 65
Sky channel 582
---
Radio
Premier Christian Radio 
DAB
Online – www.premierchristianradio.com/radioplayer
Freeview Channel 725
MW 1305, 1332, 1413 and 1566 accross Greater London
TWR
Sky Channel 138
Freeview Channel 733
Online – www.twr.org.uk