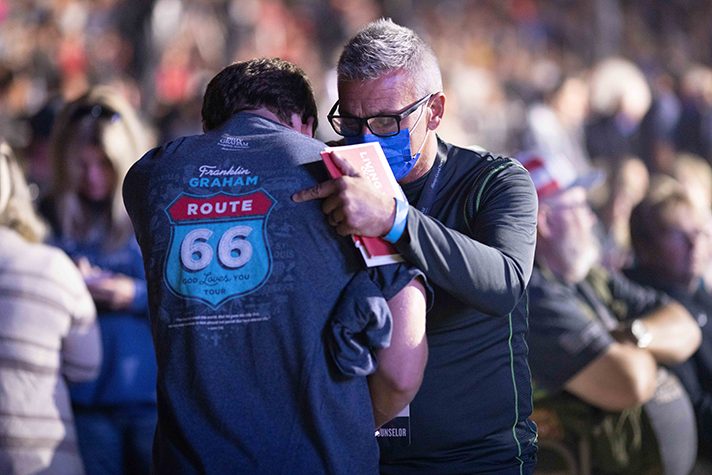 "Have you been running?" Franklin Graham asked an energetic crowd in Springfield, Missouri, on Thursday.
"God's been waiting for you. He's waiting for you right here, tonight."
On the chilly September night, a crowd of 8,900 packed into the Ozark Empire Fairgrounds for the third night of Franklin Graham's God Loves You Tour. A chord from Dennis Agajanian started off a night of worship and evangelism where God only knows how many hearts were touched.
The crowd listened intently as Franklin Graham retold the story of the Prodigal Son, who ran away from his father only to face destruction. After depleting his resources, the son came back to his father, who welcomed him with open arms.
"You've been running, and tonight you can run back to your Father," Graham said as he turned the story around to relate to the crowd.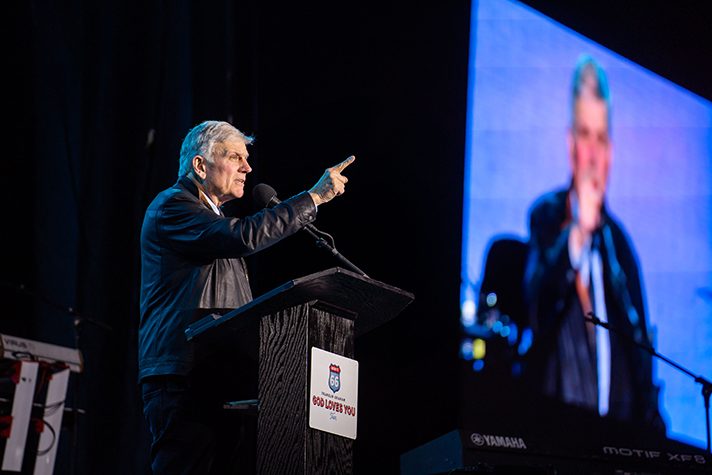 Coming Back to Where It Started
For one volunteer, the journey of coming back to the Father started three months ago.
A local to Springfield, Kassie found herself addicted drugs until God reached into her life and changed everything. Kassie volunteered at the God Loves You Tour stop as part of a mission trip with her drug rehab program based out of Omaha, Nebraska.
She came back to Springfield to see exactly what God had rescued her from. As she explained, when you come back to the place where you've been truly broken, you realize how far God has carried you.
Part of her trip included a visit to the neighbourhood where she started using drugs. She took time to pass out flyers and invite people to the God Loves You Tour.
"One of my prayers for this trip was for God to 'show me where I came from.'" Kassie said, with a nod to Missouri's "Show Me State" motto.  She's been sober for three months.
>>Struggling with addiction? Learn how Christ can set you free. 
Springfield, Missouri, called the "Queen City of the Ozarks," is home to several colleges and the historic Route 66. But it also holds crime and poverty rates above the national average.
This evangelistic outreach united 154 churches to bring the love of Jesus to a city desperately in need. Hundreds of volunteers signed up to help. Trained counsellors stood around the outdoor venue ready to talk with and pray with all who stood to accept Christ as Lord and Saviour.
And as Franklin Graham invited people to make that decision, young and old stood. Tears flowed as a faint whisper of hundreds praying to invite Jesus into their lives could be heard across the rows of chairs and bleachers.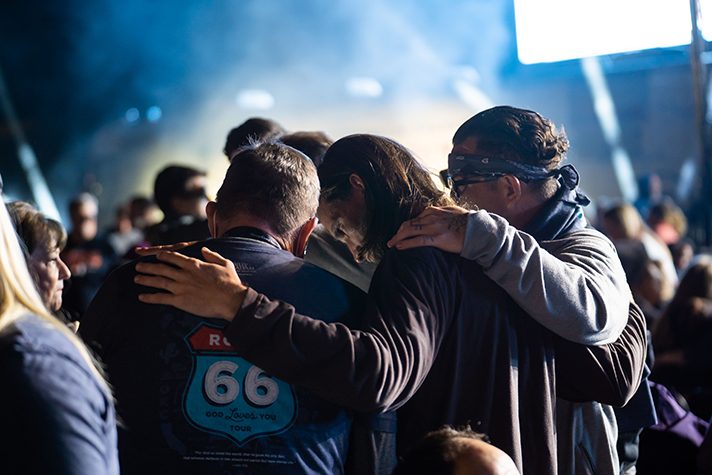 Learning to Live for God
Diego was one of the individuals whose voice added to the hum.
God had used the message of the Prodigal Son words and the songs of Newsboys and Marcos Witt to touch his heart. And when Franklin Graham gave the invitation, Diego stood.
He is a part of the local Victory Mission, a restoration program bent on transforming lives.
"You've got to be broken to get accepted in the program," said Ted, one of the 12 men in the program who came to the event.
"A lot of us come off the streets or from prison," added Jake, another man in the program. "We find the most broken things in our lives and fix it with Christ as the solution."
Thursday night, Diego decided to stop running and stood to accept Christ.
"I've got some bad things I've done in the past, and I'm tired of carrying it," he said afterward. "I don't hope it feels different, I know it feels different. … I just want to live for Him."
As Franklin Graham heads to five more cities along Route 66, would you pray for more lives to be turned around by the Gospel?