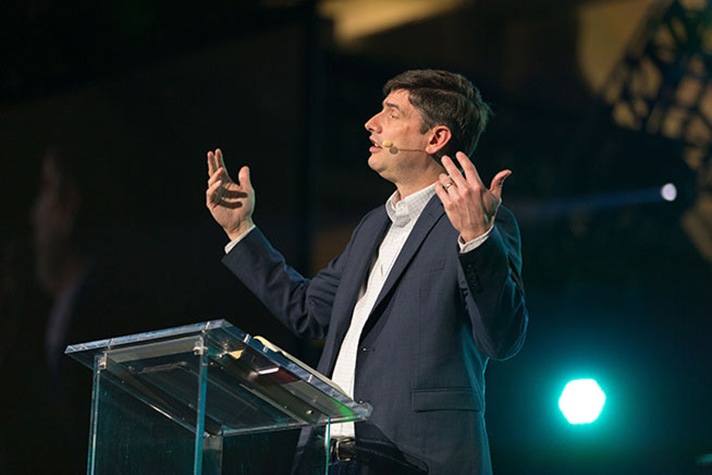 A hand shot up from the crowd as Roy Graham spoke at an event for the upcoming Mountain State Celebration with Will Graham in West Virginia.
At the urging of a local pastor, Roy Graham—Will Graham's brother—paused to address John*, the man standing among the crowd.
After John explained his struggle to understand why his daughter died from the coronavirus, a prayer team from the Billy Graham Evangelistic Association (BGEA) immediately circled him and prayed.
Despite his anger, John felt God was telling him to trust in Jesus.
"It is an indication that the Holy Spirit is already at work in this community," said Celebrations support coordinator Lynn Rogers, reflecting on John's change of heart.
Moments like this are the exact goal of the upcoming Celebration, a consecutive series of one-night events including live worship music and a Gospel message from Will Graham. It will be held July 23–25 on Fairmont State University's Duvall-Rosier Field.
While preparations for Fairmont's Celebration began in the spring of 2019, they were abruptly stopped weeks before the scheduled event date due to the pandemic. In addition, the evangelistic event has faced local opposition from the community.
Yet, John's public proclamation is evidence God continued to work powerfully in people's lives in the waiting period. Now, a community of believers is faithfully trusting God will use this event to work more in the hearts of those who need Him.
"My prayer always is that the church is more united and strengthened more to do the work of evangelism. … It's not just about decisions; it's about discipleship," said BJ Rogers, director of Celebrations.
"I really do believe that [in] my two-and-a-half years here of meeting with people, churches and pastors [in Fairmont] … it's a spiritually hungry area."
In Fairmont, the long preparation time created a stronger bond between churches as they prayed together for this event to happen.
"Churches and pastors have recognised that there is far more that connects us than separates us," said BJ Rogers. "I'm talking all across denominational, racial and all the kinds of barriers that are easily put up."
In the early 1900s, revival spread through the Fairmont area from evangelists of the day, but the community has since drifted spiritually.
"There's been a long remnant of prayer that's gone on here. The Lord can do again what I believe the Lord did back in the 1900s," explained BJ Rogers.
Local believers continue to pray and trust God will bring revival again—especially for people like John, who plans to attend the Celebration with his wife.
How You Can Pray for This Weekend's Mountain State Celebration
For many to come to know Jesus as their Lord and Saviour
That the church responds to any opposition in a Christlike manner
That the focus remains fixed on sharing the love of Jesus
For staff and volunteers to stay healthy
*Name changed for privacy.