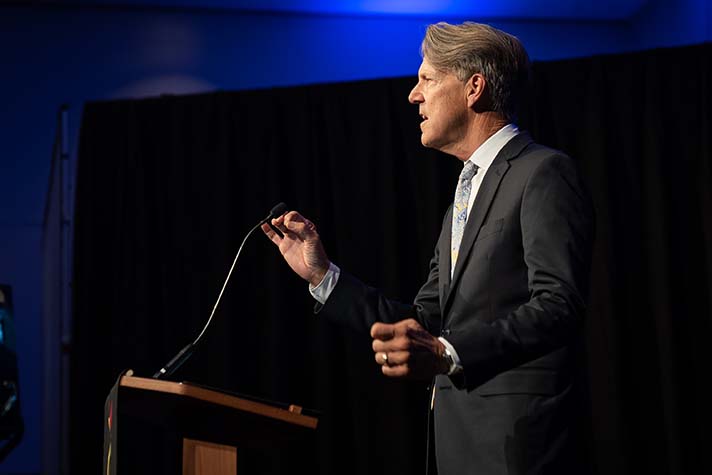 Pastor Skip Heitzig was one of a lineup of speakers during Monday's U.K. Evangelism Summit in London, England. "I'd love to see England become a place where the Gospel flows freely, where the impact is not just known here but known internationally," Heitzig said.
When Dami Ogunkeye hopped off the Tube [London's subway], he didn't expect to see a sign for a faith-based event while headed to the O2, an entertainment complex in southeast London.
Intrigued, the uni [university] student made his way to the nearby hotel hosting Monday's U.K. Evangelism Summit, the final stop of a four-city event held in Glasgow, Scotland; Liverpool, England; Cardiff, Wales; and London, England.
Ogunkeye joined more than 600 others at the free, day-long meeting. Intended to encourage and challenge pastors and church leaders in their faith, the uplifting sessions included various speakers intermingled with worship.
Ogunkeye and his friend, Jef Babundo, were some of the youngest attendees, ages 22 and 21 respectively, but that only seemed to propel their eagerness to contend for the Gospel. 
Ogunkeye questioned, "How do we—off the back of COVID-19—actually populate the church?"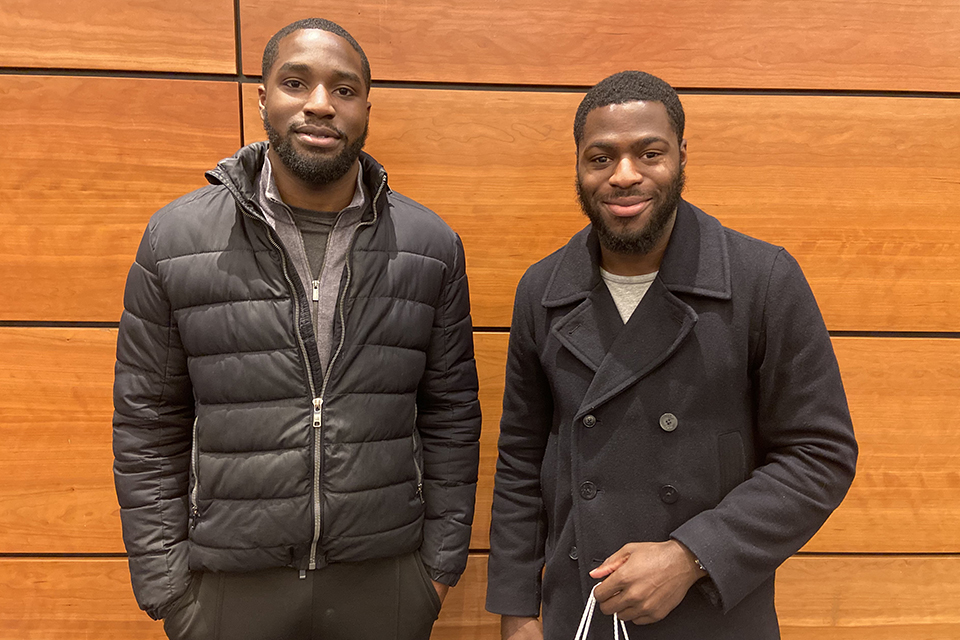 Photo above: Dami Ogunkeye (right) has worked with teenagers involved in knife crime, which he says is a major issue in his city of London. He and his friend, Jef Babundo (left), are hoping to see other Christians live as actual followers of Christ—so more youth will have an opportunity to experience His love.
The answer: it starts with evangelism—and followers of Christ, like Ogunkeye. But nowadays, the term "follower" is often misconstrued. 
As speaker Skip Heitzig said, "To follow someone means to go after someone. But in social media, it just means you get updates on a mobile device."
In Matthew 16:24, the Bible shares what it truly means to follow Christ: "If anyone would come after me, let him deny himself and take up his cross and follow me."
But that can be a challenge, especially in today's society. 
"We're not of the world, but we're in the world. Jesus warned us that people will not be sympathetic to our cause, that they will hate us, that they will be against us. That's always been the case," said Heitzig, who pastors Calvary Church in Albuquerque, New Mexico. "Every generation presents its own difficulties. We're in a post-truth era, … where the idea of absolute truth is not even regarded as possible."
Babundo has felt the truth of those words as he's battled what he calls the "crabs in a bucket mentality," where people constantly compete against each other to get ahead. He's seen the false "god of money" prevalent in the fast-paced city of London.
"It's just a matter of how much world you want to gain to lose your soul," the economic student said. 
But that rat race was far from the conference room that seemed nothing but Holy Spirit-filled on Monday. Hour after hour, church leaders praised God, connected with like-minded attendees, and opened their minds and hearts to God's Word.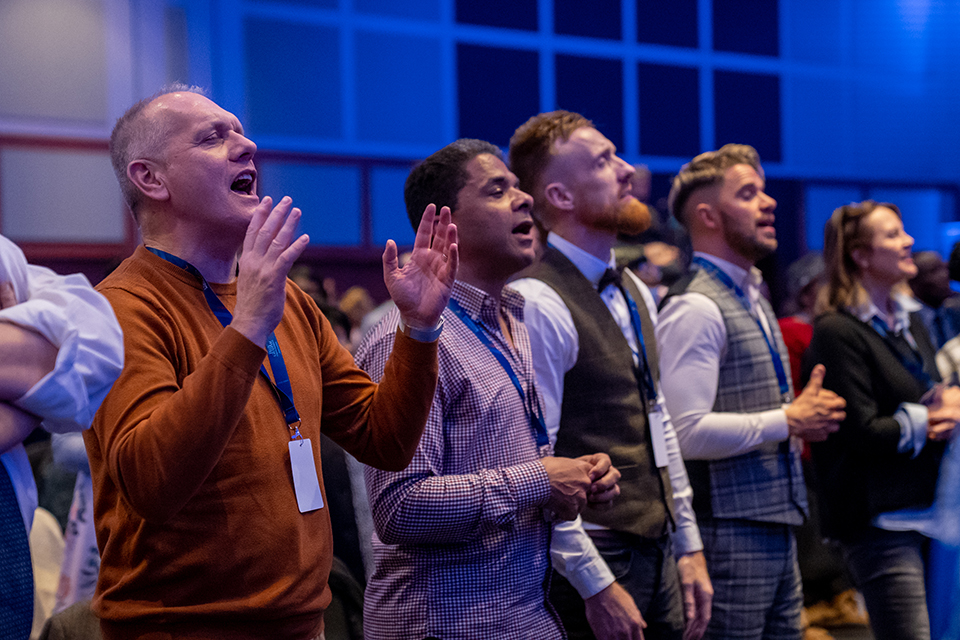 Photo above: "Thank you for singing so loudly, Heitzig told the praise-filled crowd. "We're shaking the earth here." Over the past month, hundreds of attendees have been encouraged at each of the U.K. summit stops.
"We have a message that can change people's lives for all eternity. So we should never be reticent, … hesitant … or shy about that. But get that out there, even when there's conflict," said Heitzig, who received Christ while watching a Billy Graham Crusade on television in his brother's apartment.
"Most people are waiting to believe," he said, "If you can just remove some of the barriers that are impediments."
Attendee Lolade Adeneye has met many souls along London's streets who have yet to make a decision for Christ. But at the close of Monday's summit, she was motivated to keep evangelizing.
"Since the lockdown has been over, after the COVID, it's like people's desire for evangelism or the things of God have died. But somehow, some people have got to start reawakening that desire to go out, to do the things of God," Adeneye said. "[This event has] encouraged me and spurred me to move on, to do the work of God more."
She's already been talking with her friend about the plan for next year's event—the four-city God Loves You Tour – U.K. with Franklin Graham, which has 2,600 churches involved.
After all, there's still much to be done for the Gospel of Jesus Christ.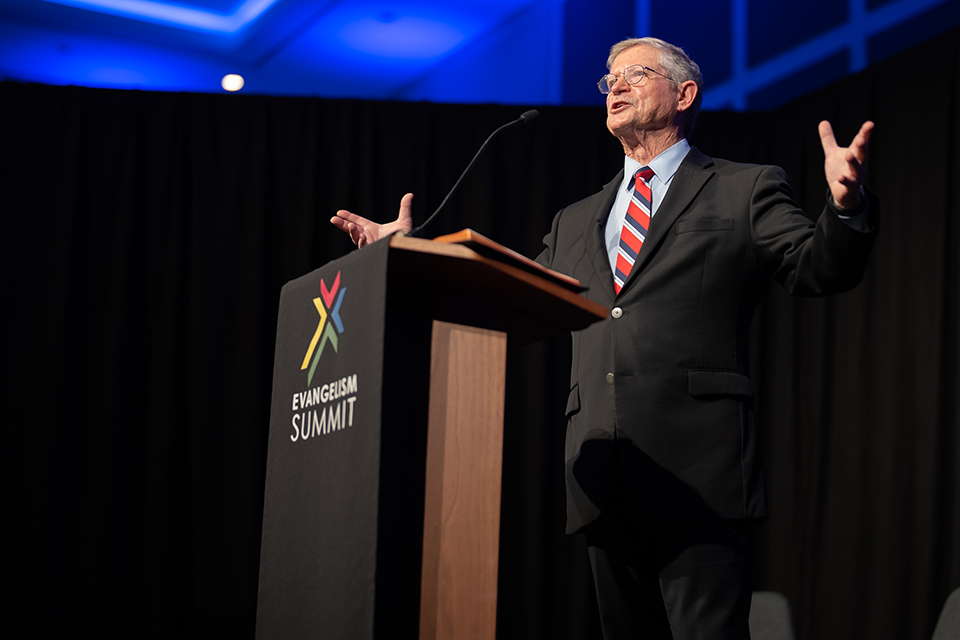 Photo above: Speaker Dr. Don Wilton, Billy Graham's pastor, shared about sitting under the evangelist's teaching for 25 years. His message focused on Galatians 6:14, a verse that strategically sat in multiple places around Billy Graham's home. "There's so much discouragement in our world today. And the people gathering from all over the region are being encouraged through … a fresh understanding that God hasn't left us, that the Lord Jesus Christ loves us just the same. And the best is yet to be because of it," Dr. Wilton said.