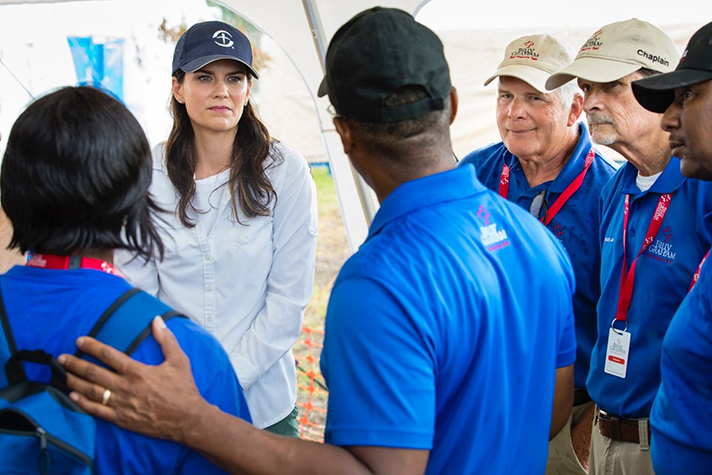 Franklin Graham's daughter, Cissie Graham Lynch, encouraged Billy Graham chaplains serving in the Bahamas on Friday. "The Bahamian people are so strong and so loving. They need our prayers," Lynch said. "They have such a long journey ahead of them. This will be years and years of a rebuild. That's why Samaritan's Purse and the Billy Graham Evangelistic Association are there to serve these people, to get them back up on their feet and to give them hope in the midst of this storm that they're facing."
"It's worse than you can imagine."
After visiting multiple islands across the hurricane-ravaged Bahamas on Friday, Cissie Graham Lynch shared what it was like to walk along completely levelled homes and total devastation.
"Images just don't do it justice when you see a complete community wiped out and everything to the ground and blown away. It's like a ghost town," Lynch said, adding that it was probably one of the most beautiful places in the world before Hurricane Dorian swept through the area two weeks ago.
While in Freeport, she prayed with crisis-trained chaplains from the Billy Graham Rapid Response Team (RRT), who are consoling Bahamians waiting for physical care at a Samaritan's Purse emergency medical hospital.
"So many people need an arm wrapped around them to tell them it's going to be OK, or just somebody to hear and listen to their story," Lynch explained. "That's just what's so beautiful about this Rapid Response Team. These chaplains really have a gift to share love in some of the darkest moments in somebody's life. [They have] genuine love to be able to share the love of Christ in a moment when people have so many questions of the whys and hows."
Even in the midst of such questions, Lynch found great faith while encouraging locals among these decimated islands, especially in the tiny Abacos island of Man-O-War Cay.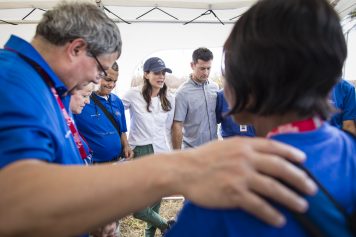 "I've never seen anything like [this community]," Lynch said. "They weren't defeated."
As she attended a town hall meeting, she sat among a circle of hardworking people who'd cry one minute and laugh the next, their joy still in the Lord.
"Everybody that I talked to praised God for His goodness to see them through the storm," Lynch said. "They've lost everything. They're there to rebuild and give God the glory through it all.
"We wonder if we go through storms like that, if we have lost everything, can we still sing God's praises at the end of it?" Lynch continued.
"I think a lot of people are, you know, wondering where God is in these situations. God's Word does say that we will walk through the fire and the flames won't set us ablaze, that we can walk through the rushing river but it won't overflow us. … It's in these dark moments that we're hurting and crying that we have to know God is sovereign and see His goodness through it all."
With no air conditioning, a Bahamian breeze flowed through the room as the natives discussed their next plan. Above them was a handprinted sign with the Scripture of Jeremiah 29:11—"For I know the plans I have for you, declares the Lord…"
"That was their anchor—that God had not forsaken them," Lynch said. "They know they have a long road ahead, but they said even on our worst day, God loves us."