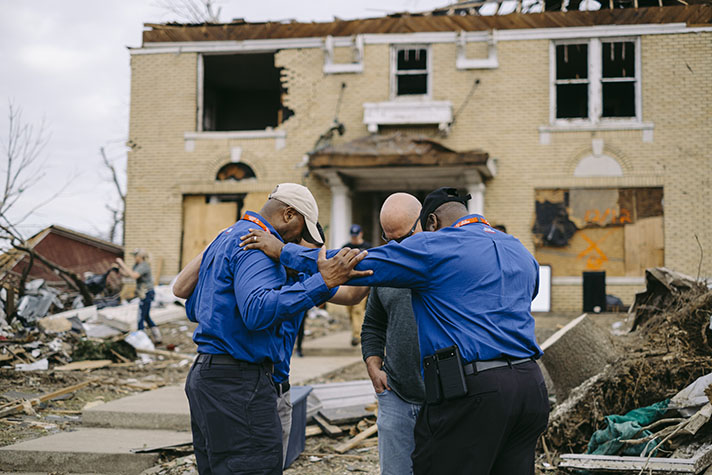 After 2021 ended in heartbreak for many families due to a series of deadly tornadoes in parts of the United States, crisis-trained chaplains from the Billy Graham Rapid Response Team (BG-RRT) spent the holidays ministering in the hard-hit small town of Mayfield, Kentucky, United States.
They're spending the new year helping the devastated community pick up the pieces of their lives, realise that God still cares for them—and has a sovereign plan.
More than 60 chaplains have been on the ground in the weeks since the horrific storm and prayed with more than 2,300 people. Dozens have made decisions for Christ, deciding to place their hope and trust in God for eternity.
Here are four short stories from this deployment:
A Heavenly Home
A Guatemalan man greeted Billy Graham chaplains and invited them into his home, where they met his wife and 1-year-old daughter. Through an interpreter, the couple shared how they were caught off guard by the tornado, and immediately tried to find safety.
Their home was damaged, but in the weeks after, Samaritan's Purse volunteers helped with the clean-up process. The wife told chaplains that she'd previously worked in the candle factory, which collapsed and killed eight people in the twister. She had resigned just a week before the storm.
The chaplains gave the homeowners a Bible, and the couple heard about the love of God. They went through a "Steps to Peace With God" booklet, and both the husband and wife were eager to pray and receive Christ.
Choosing God's Word Over Witchcraft
Chaplains met with a family from Mexico, including a mum named Josefina*, her 15-year-old daughter and 7-month-old son. The family had been heavily involved in witchcraft, but Josefina had refused to be drawn in.
All the while, she experienced multiple illnesses that her family attributed to her rejection of witchcraft. Josefina told chaplains about nightmares that led her to believe she was going to die, with no assurance of her eternity.
Chaplains encouraged her to read God's Word for truth. They went through the "Steps to Peace With God" booklet and several Psalms. Hearing the Psalms seemed to break through Josefina's defences—and she prayed to surrender her life to Christ.
Finding Relief for Guilt and Fear
Amy* is a young mother living in severe poverty. During her first visit with chaplains, they heard about her material needs before the conversation turned to spiritual matters. Amy expressed that she had many questions, but couldn't articulate them at that time. The chaplains left some materials and promised to return soon.
The next day they brought some items Amy had requested, and she was ready to find answers to her questions. The chaplains walked her through the "Steps to Peace with God" booklet and explained each step in terms that she could understand.
Amy was relieved that she could turn her guilt and fear over to God. She earnestly prayed to receive Christ as her Saviour and immediately asked, "Can I share this booklet with other people?"
Too Busy for God
When the tornado struck, Hudson* was several miles away from his 84-year-old mom, who is partially blind and lives alone. Because of the debris in the road, he had to walk to his mum's house. As he approached, Hudson saw a tree had fallen on it—and feared the worst.
But his mum was alive. He teared up as he recalled the moment while talking with chaplains. Hudson explained that while he had grown up going to church, as an adult, he had always been too busy for God.
Taking time to pause, Hudson agreed to read the "Steps to Peace With God," and decided he wanted to follow Christ.
*Name changed for privacy.
You don't have to wonder where you'll spend eternity. Start a relationship with God now.