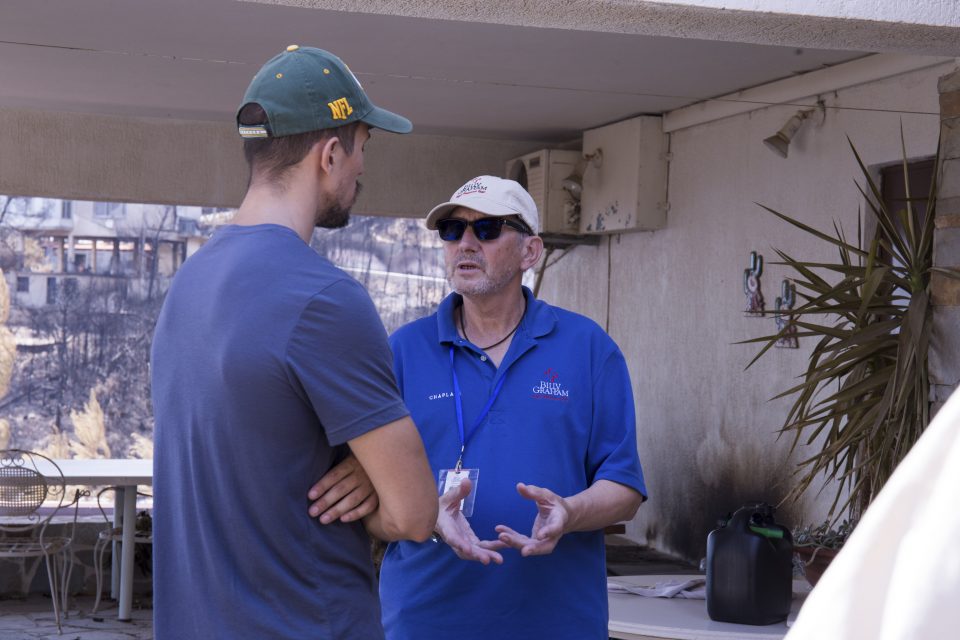 "I thought I was going to die."
Crisis-trained chaplains Phil and Pam Rhodes have heard those words over and over again after arriving in Mati, Greece, a resort town that was recently ravaged by a massive wildfire.
Many residents are still in shock after narrowly escaping the blaze.
"A whirlwind of events happened in 45 minutes," Phil said, mentioning older residents said they hadn't seen such strong winds in 52 years.
Gale force winds blowing from the hills to the ocean spread the inferno from one building to another while residents frantically tried to reach safety.
Several used the sea as a refuge, running to the ocean and jumping in the water. They swam for hours until help arrived.
Others tried to leave the village by car, and many ended up abandoning their vehicles and "running out of their shoes," according to one resident.
Dozens of people lost their lives in the community where just about everybody knows each other. A teenage girl died after jumping off a 13-foot cliff, trying to reach the sea. Others died in their cars, and 26 people were found dead after huddling together in a burning building.
"There was total chaos," Phil said, describing accounts he's heard. Due to the smoke, people had trouble seeing to escape. In addition, the seaside community's small, narrow roads caused a major traffic jam.
>>See ministry photos from Mati, Greece.
"It was a difficult, logistical nightmare to get out of this place," Pam added. "There's been great material loss, but people are more affected by the loss of life and the nearness they came to dying."
Billy Graham Rapid Response Team (RRT) chaplains are on the ground from both the U.S. and U.K. offices to offer a listening ear and comfort to those who are hurting.
"What they need now is love, gentleness and comfort," Pam said.
For the past several days, she and her husband have talked with community members and law enforcement officers.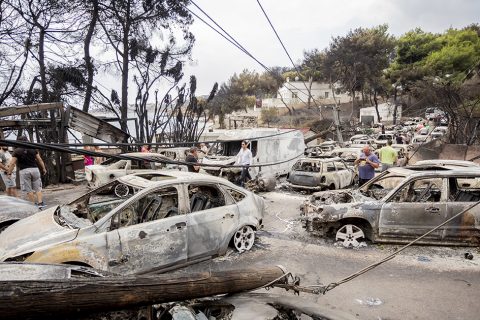 One woman named Alena pulled her car over to talk with the chaplains, surprised they'd come all this way to bring hope to others. Alena explained how she was away on vacation when her mother called her, saying she was going to die in the flames that surrounded her home.
"You're not going to die," Alena told her mother. "We're going to pray."
And God answered—both her mum and the home were untouched by the fire.
Yet, Alena's prayers didn't stop there. After talking with the chaplains, Phil and Pam took time to lift her up in prayer before the heavenly Father, and she commented, "I didn't know people prayed like that."
In an area that has stricter laws concerning Christianity, Pam said, "I think the aroma of Christ is coming out, and people are going to be touched by that."
She and her husband have seen such strength in these loving Greeks and know recovery is coming in the days ahead.
"God is in control in the storm," Phil said. "He's going to bring healing to the community in His time."
---
Donate to the Rapid Response Team