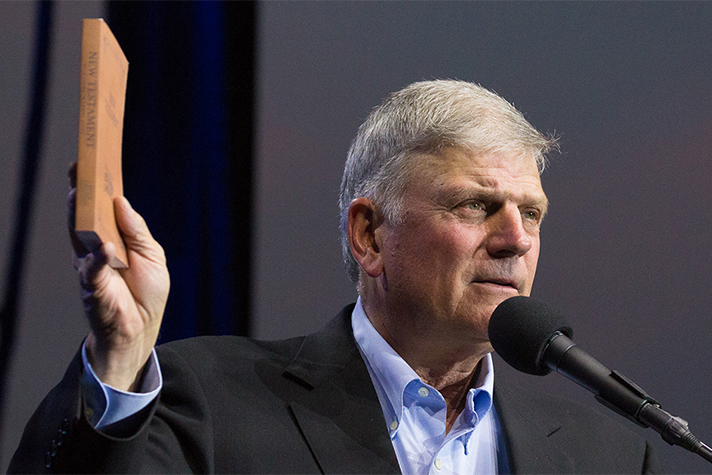 Franklin Graham will return to Great Britain next year for the God Loves You Tour, announced Monday at the Billy Graham Evangelistic Association's Evangelism Summit in London, England.
Excitement rose as the announcement was made.
More than 600 pastors and church leaders gathered in London for a free evangelism summit were the first to hear about plans for next year's God Loves You Tour in the U.K.
Cheers erupted from the crowd. Many even pumped their fists in the air.
"Next year, together with hundreds of churches in every city, we'll be proclaiming the Good News of the Lord Jesus Christ," announced Viktor Hamm, Billy Graham Evangelistic Association's (BGEA) vice president of Crusade Ministries.
>>Get dates and details about the God Loves You Tour
The 2020 Graham Tour U.K. was postponed in the face of the COVID-19 pandemic and other challenges in the United Kingdom.
In a news release Monday, BGEA's president and CEO Franklin Graham shared, "We want all people to know that God loves them and everlasting life is available to anyone. This remains the purpose for every BGEA event, and it is why we have named the rescheduled tour the 'God Loves You Tour—U.K.'"
The Gospel-focused outreach will kick off in Liverpool, England, on May 14, with additional stops in South Wales, May 21; Sheffield, England, May 25; and London, England, on July 16.
So far, more than 2,600 congregations have engaged with the BGEA for the tour.
The news release includes a special thank you to the pastors, many of whom attended the U.K. Evangelism Summit, held in four cities over the past month. It states, "We are profoundly grateful for the thousands of churches of various denominations across the U.K. that have stood alongside us and continued praying for the tour."
On Fire for God
A large cross around his neck, Isaac Fabelurin eagerly chatted with fellow church leaders about the news.
"The fire [for the Gospel] has been ignited and is going to burn," he said.
The young man helps pastor a church in Hackney, East London. He had already attended an evangelism training course for the 2020 Graham Tour U.K.
Now his mind is already turning, thinking about who he'll pray for and invite to next year's London tour stop. "I can't wait," he smiled.
Next to him, his senior pastor David Folorunso agreed.
"I believe God has opened the door again."
Across the way, 30-year-old Jade Ahmid came with friends from Cardiff, Wales. She volunteered at October's summit event in Cardiff, but came to London to be spiritually fed.
"I'm hungry and thirsty for more," she explained. "I just want to stand with my brothers and sisters to go and preach the Gospel. And to let my voice be heard in this dark, fallen world.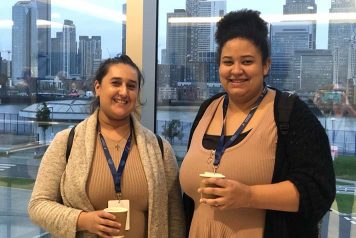 "People need Jesus," she said. "I am really expectant in what the Lord is going to do [through these evangelism events]."
'God Has Prevailed'
Dr. Hugh Osgood, a senior U.K. church leader, encouraged pastors from various church affiliations to unite in their goal—to reach people for Jesus Christ.
"When people see the church move forward, people are wanting to go with the momentum," he encouraged. "We can be the energy for this."
It's been a long wait for these spiritual leaders, who came together ahead of the 2020 Graham Tour U.K. with Franklin Graham.
It's been three years since the evangelist held an event in the U.K. The most recent one was the 2018 Lancashire Festival of Hope in Blackpool, England. Met with protests and criticism, bus ads promoting the Festival were taken down because of Franklin Graham's religious beliefs on traditional marriage.
This spring, a U.K. judge ruled against the Blackpool Borough Council and Blackpool Transport Services Limited. The ruling held that Christians who hold Biblical views on human sexuality, including Franklin Graham and the organizers of the Festival, are not extremists and must be treated fairly.
This ruling and subsequent settlement over the action could have a far-reaching impact on religious freedom protection.
Pastor Folorunso says he and other pastors supporting the God Loves You Tour are inspired that a major evangelism event is coming to their nation.
"This gives us courage that God is in control. And greater than human beings," he said. "God has prevailed."
Jesus wants a personal relationship with you. Ask Him into your heart.
Find out how you can get involved in the 2022 God Loves You Tour  in the U.K.